By Vickie Sharples, RCS Partner.
What to expect with a re-roof project.
From here we will walk you through the process of a roofing or re-roofing a project from start to finish. This example will be a cedar shake removal and conversion to an asphalt roofing system.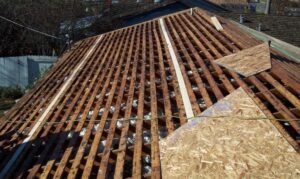 Cedar shakes were typically installed over skip sheathing. Skip or spaced sheathing is used as the preferred deck so that the shakes can breath drying out the underside soaked wood in the winter. The shakes are removed and disposed of, leaving a bare roof deck. This is the time when an inspection of the roof can be accomplished and repairs if needed, can be done.
Dry Rot some times can go unseen for years and removing all roofs before a new one is installed is the best way to do these repairs.
Before the project continues the deck is inspected by a project manager to ensure that the dry rot is removed and repairs are replaced with like material.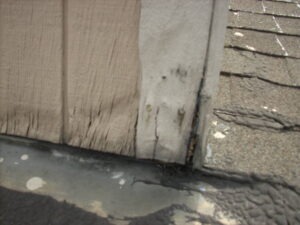 Then the new decking or sheathing can be installed over the old skip sheathing.
Next, the location of any new skylights, ridge venting, gutters or other accessories can be made
before continuing with the deck protection. A type 15 or type 30 ASTM felt normally is applied under the new shingles.
Once the deck protection has been installed the roofing process can begin. Following the manufacturer specifications for the installation are important to ensure any warranty issues will be honored if needed. Once the job has been cleaned up the job is completed.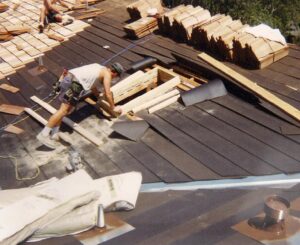 Find your local roofing contractor in the RoofersCoffeeShop® Contractor Directory.
Have a question? AskARoofer HERE
Need a contractor? Check out our list of Roofing Contractors HERE.