What is a Dutch gutter and what is its purpose?
Mike asks: "What is a Dutch Gutter? What is its purpose? Why are they used on some San Francisco Victorian roofs?
There are different varieties of Dutch Gutters but most of the time these rain gutters allow the fascia board to be exposed. Being exposed allows the architect to be creative, incorporating a filigree or fancy-ness to the fascia. Sometimes called "Gingerbread" this is done by talented carpenters using special moldings and designs to give the home charm and be different from anyone else on the street. The gutter system is built into the eave and not seen from the ground with the exception of steeper slope roofs > 8:12. Made from wood, it is designed to carry the water to an internal downspout, then through the soffit and down the wall. This trough was clad with metal, normally with copper or lead both of these known for its longevity.
Below are examples of a slate roof lead clad Dutch Gutter and a less expensive composition roof with modified Bitumen. Both will move a great deal of water to a drain or downspout and exit the roof area.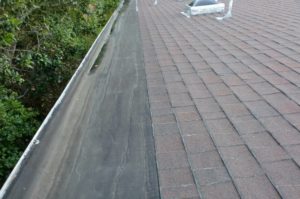 These days it is not uncommon to clad or skin this trough with a modified roofing material versus the copper or lead because of cost.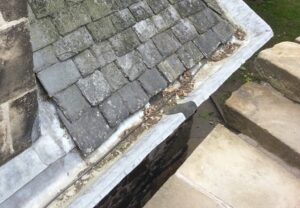 The reason you see Dutch Gutters is the age of these homes. They sometimes are protected, being in the historical district of a city, and have some requirements to keep the design the same. It does not surprise me that you mentioned San Francisco as having these types of fancy homes. Some older larger cities share a lot-line or have very close side yards making an eave and gutter extending out impossible. Most older communities have housing districts like this, you just don't notice them as much as a roofer might. They do add a challenge to doing the roof when they are replaced - working that close to another building where a ladder cannot even be set up.
The years of neglect to a Dutch Gutter can cause much damage because it just goes unseen being up so high and outside the exterior wall. Any work on these types of gutter can be costly and needs to be done by a professional because it is way out of the skill level of a "do it yourself" homeowner. Just finding the wood, trim, molding can be hard, not mention the skill to install it.
Have a question? AskARoofer.
Find your local roofing contractor in the RoofersCoffeeShop® Contractor Directory.