Roofing Process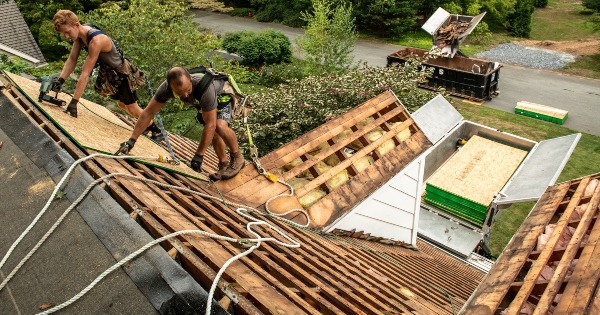 What to expect after you sign the contract.
A new roof is a messy project. You may be surprised at the amount of noise and debris it creates, but it's sure worth the trouble when you have the security and beauty of your new roof. Below is a list of things to think about before, during and after the project is complete.
Before you start:
Check with community associations for any restrictions on traffic and noise.
Before they start the installation, make sure they have delivered exactly what you have ordered.
Put away or cover pots, outdoor furniture, lighting, garden decorations, etc. that could possibly be damaged during installation.
Roofing materials and equipment may be stored in your driveway or in the street in front of your home. Be prepared to make room for the materials and have limited access for a few days.
Your contractor may need access to electricity, so it's advised that you locate a convenient plug for him or her.
Remember it is hard for your contractor to identify any damage to the wood underneath until they remove the roof. Be sure to go over worst case scenario and costs with your contractor before starting the job so that the only surprises you have will be pleasant surprises.
Discuss the desired route and process of delivering materials. There may be some damage to your property during delivery of the roofing materials. Sometimes access to the roof cannot be obtained by the driveway and the only way to deliver the materials to the roof is by equipment driving on your lawn or plant materials.
Work with your contractor to find ways to minimize the chance of damage to your lawn or driveway without raising the cost of the project. Point out sprinklers and important plant materials.
During the project:
If you won't be home, make sure your contractor has your contact information.
There is a lot of noise when tearing off or re-installing a roof - hammering, hammering and more hammering. You may hear saws running and what may sound like elephants on your roof. You may see dust coming out of your light fixtures, but don't be alarmed, this is all normal.
Secure any valuable and fragile items. There will be a lot of vibration that could disturb your valuables. Removing pictures from your walls that you don't want to be damaged. Also, be aware that all of the ruckus may set off your security alarms.
If they are removing the old roof it will get dusty in the house as the debris and dirt settle into your ventilation system. Keep in mind, things stored in attics may be exposed and could get dirty. Depending on the type of work you are having done on your roof, there may be fumes too.
There will be contractors and ladders around your property. Please be aware that they may need access to gates to get around your house and those gates may need to be kept open. If you have animals they may need to be secured.
Debris will be falling off the roof all around your house. For safety reasons, keep children, guests and animals clear of the installation area.
If your contractor was required to pull a permit you will have an inspection from your local city official. Nothing will be required from you. This will all be handled by your contractor.
Do not let your contractor leave your roof torn off and open to the elements overnight. They should cover it up with an underlayment or a tarp.
Your contractor should clean up each evening after finishing for the day. Ask him or her to sweep the area with a nail magnet.
After the project is complete:
Make sure all warranty information is correctly filled out and submitted.
Before you pay the final payment make sure you have all the labor and material lien releases.
Walk the job with your contractor and address any concerns and questions you may have. Contractors get most of their projects by referrals. If you are happy, write a recommendation online.
Learn more about the roofing process.
Find your local roofing contractor in the RoofersCoffeeShop® Contractor Directory.
Have a question? AskARoofer.
Photo courtesy of: Equipter
---