Planning to install a metal roof on his RV shop, this Oregon building owner wanted to know the facts about a few metal questions he had.
Charles, who is planning to build a RV shop in Oregon, had a few questions for the roofing experts about metal roof installation and asked:
I have been in the process of preparing to build a 40'X70' RV-Shop building in Salem, Oregon. After a builder I had scheduled to start on the first of June suddenly quit, I have had a very hard time finding qualified builders/contractors willing to do this project. All pole style builders want to do their own roof installation. Most look at me with a funny face when I say that I've been told that with a screw down type roof and possibly metal siding, the gaskets will rot within 15 to 20 years and have to be replaced. They reply, "At your age of 67, let the next guy worry about it!" Also, "15 lbs. felt/ asphalt underlayment will be fine. After all, sir, you are not building a show place!" That type of thinking doesn't sit well with me. I have worked as a laborer\ electrician for 36+ years and don't believe in taking advantage of my fellow man, doing a poor job and get your money and run.
I know an interlocking seam metal roof, plus possible metal siding will cost a lot more money and a good quality underlayment. But, I do not want a major repair bill down the road and a slop job. Hope to find a contractor who is knowledgeable, takes pride in their work at a fair price.
So, I have a few questions:
I've been told if I have installed a metal roof that will be screwed down, the gaskets will rot within 15 to 20 years and have to be replaced. Is this true?
One installer wants to use 15 to 30 lbs. felt paper. Is this a bad idea? What is a good quality underlayment for a metal roof? Synthetic?
Should the installer use OSB sheeting or 1/2" to 5/8' plywood?
Does the roof need to be vented? I was told the best is a vent all along the roof line.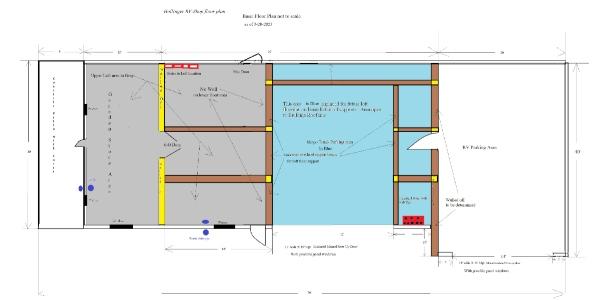 Roofing expert Chris from Simply Affordable Roofing had to say in response to the questions:
There are two main types of metal roofs: standing seam and exposed fastener. Exposed fastener is typical for barns, shops and carports due to its lower cost. The drawback is the exposed fasteners are prone to failure before the roof itself wears out. This is due to movement in the panel and UV exposure. A common maintenance item for these types of roof is to seal or replace fasteners after 10-20 years depending on conditions.
Asphalt based products should not be used under metal due to the extreme heat that the metal creates. It will cause the asphalt in the felt to stick to the panel and tear. A quality synthetic underlayment or high temp ice and water shield is recommended.
This really depends on the intended use, location and design of the roof. Does it need to support a high load, like snow? If it is a simple shed roof with adequate pitch then OSB or ½ CDX plywood should suffice. Certain metal panels are designed to span across purlins eliminating the need for sheeting all together, but this depends on the application.
Again, this depends. Is their going to be an attic space or a sealed area? Generally, it is not a good idea to create a sealed off area where air cannot flow. Another important consideration is insulation and climate control. If the space is heated without proper insulation, you can create a condensation issue in the roof. This is something that should be professionally reviewed and designed to avoid costly issues.
The next response was from roofing expert Bobby from Bliss Roofing:
The type of panel you are referring to, is an agricultural panel which is an "exposed fastener" application. I would recommend a standing seam snap lock type of panel where the fasteners are concealed. An example would a Taylor Metal Product's "Easy Lock" panel.
Our practice is to use a "high temp" ice & water self-adhered underlayment for better protection however, 30lb felt is specified by the manufacturers.
I would recommend ½" CDX plywood.
The ridge should be continuously vented to create exhaust if there is an attic and make sure there is intake created at the overhangs to max the exhaust.
Continue the conversation in our Forum!
Have a question? AskARoofer.
Find your local roofing contractor in the RoofersCoffeeShop® Contractor Directory.
About Bliss Roofing
Bliss Roofing has been serving roofing needs in Oregon and Washington for over 50 years. Our company began as Bliss Roofing Company founded by Art Bliss in 1969 where his son, Don, worked as a loader, then a roofer learning the tricks of the trade. In 1985, Don purchased the roofing division and established Bliss Roofing, Inc. In 1990, Bliss Roofing moved to our present location in Clackamas, Oregon.
About Simply Affordable Roofing
Simply Affordable Roofing is a reliable commercial and residential roofing company. We are a local family owned company with over 30+ years of experience. We are on a mission to deliver affordable roofing with no gimmicks, only quality, to your home or business. We know roofs, it's that simple! We exist to provide security for the lives and families in our community. We are passionate about people, roofing, and demonstrating honesty and integrity in everything we do. Our goal is to be known as the go-to company for roofing needs in the Pacific Northwest.