Today lets take a look at the Montross Metal Shingle.
It is a stamped sidewall and roofing panels with a couple of different designs. For the walls, a Gothic and Diamond Tile design, and for the roofs panels, the Eastlake and Octagon Shingle. I have seen another roof panel that looked more like a cedar shake or shingle produced by Montross that was called the Victor.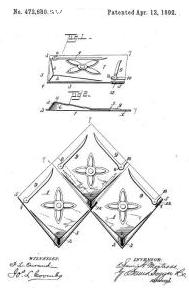 These metal panels were manufactured with tin steel and copper late in the 1800s. The ability to roll the panels thinner and with greater detail made these types of walls and roof covers less expensive and very popular. The Montross Shingles were manufactured by Levi Montross at the Montross Roofing Company 113 Erie St. Camden, New Jersey. It was formed around 1889 and lt ran to the year 1914 when Levi died. The Montross family sold the company a few years later. These panel designs continued on up to the thirties because they were very popular. Steel roofing doesn't burn like wood roofs!
Many of these types of the panel were covered with zinc and later Levi Montross designed his products to be stamped then galvanized, making a better system resisting cracks in the galvanization process by, doing the stamping first.
Today there are many roots to these types of historical panels. These new roofing panels have a small share in the roofing market place but once again are becoming more popular. One of the main reasons for the success of this panel now and then is the weight of the roof and the inexpensive fireproofing surface.
Have a question? AskARoofer HERE
Need a contractor? Check out our list of Roofing Contractors HERE.