By Bob McCrickard.
Rite Grade Inspected Red Cedar Shingles on your roof in the early 1900's meant you had quality inspected product prior to installation.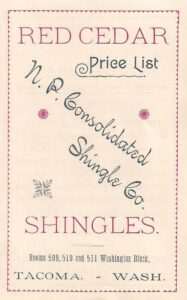 Editor's note: Thank you Bob for sharing your love of roofing history with others in the industry.
Back in the day, this trademark was the property of over one hundred shingle mills. Members of the West Coast Lumbermen's Association based at 483 Henry Blvd., Seattle, Washington were authorized to use this label as proof of standards and quality. These shingle mills produced 3.5 million squares annually in early 1900 and having that label carried a guarantee of the product.
As the shingles were installed, these labels would get mixed into the installation of the roof and would be discovered years later when the house was re-roofed. These are great little finds for us roofers, giving us a glimpse into the past. I have quite a collection of them, some in poor condition with nail holes and some with rodent chew marks, but some are still very readable and interesting to look at.
Today there are similar labels inserted into the bundles of shakes and shingles that certify quality. Similarly, tags are inserted to ensure fire ratings. Most people never pay attention to them, but we roofers see one for every bundle we install.
This label explains the benefits of using Red Cedar Shingles. The cost savings of using skip sheathing versus solid decking, the weight of the roof and sheathing is less than tile and the insulation values of using wood as a roof are well known. These roofs also breathe well. I could go on...but it is nice to just take a few minutes to look at the past and see the history of roofing.
Have a question? AskARoofer.
Find your local roofing contractor in the RoofersCoffeeShop® Contractor Directory.