Do Gable End Vents need to be sealed up when using Ridge Vents? Yes, I mean No, Wait a second, Maybe?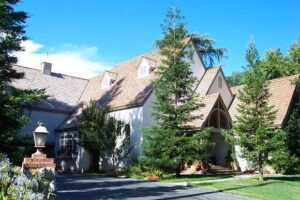 Asking this question will get you many different answers. Even engineers will argue this point. So let's break it down to qualify the question. There are different types of homes we all live in America. Homes come in different designs and sizes. Some houses have vaulted ceiling, two stories, attached garages and some with no attic at all. This allows for many interpretations of the ventilation codes. The industry standard is 1 sq. foot of ventilation for 300 sq. feet of attic space above living space should be used when a vapor barrier present. When there is no vapor barrier present a 1 sq. foot ventilation for 150 sq. feet is used. 50% of these factors should be intake and 50% should be exhaust as a goal to provide a good attic ventilation system. There are many ways to ventilate an attic and the design of the house will dictate the type of ventilation or combination of vents to be used.
This cedar shake roof I did in the '90s. It shows you what gable end vents look like in general and where they are normally positioned. This home has a 14:12 pitch to it and is not normal but it is ok to use gable vents or dormer vents with ridge venting as long as it is within 3 feet of the ridge. It does not seem to conflict with the ridge vent but if the gable vent is lower it becomes intake. I used this picture as an example of how the different ridge elevations can cause a design issue when using any type of ventilation. Here the highest ridge is the only place to install ridge vent and expect it to work properly as exhaust. It has been my experience that anything below this highest ridge will be intake.
Did you know the vents lower that the 3-foot rule actually becomes intake and can be designed that way? In this example, there are no soffit vents or eave block vents. So the gable vents here are used as intake vents and dormer vents were used on the backside of the upper ridge as exhaust since I personally hate using ridge vent on shakes.  A combination of ventilation type is needed on some homes.
So to answer the question, Do Gable End Vents need to be sealed up when using Ridge Vents? It really depends on the type of roof design you have and if you can get the goal of 50% intake and 50% exhaust. Some times the gable vent can be used with ridge vents if within that three feet of the ridge. If you have proper intake then you may want to close them off. Be open to the combination of both because there may be limited ridge available and using the gable end vent may be very helpful.
Have a question? AskARoofer HERE
Need a contractor?  Check out our list of Roofing Contractors HERE.