Roof - Roof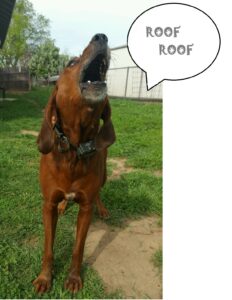 Does your dog know something you don't? How can I tell if I need a roof? There are a few simple signs to look for to tell if you need a new roof or roof repair.
Here is a list of the top 10 signs.
Obvious leaks or water stains on the ceiling.
Dry Rot or Fungus seen on the overhangs.
The age of your roof, anything 20 years or older needs to be looked at.
Missing shingles. Rusty valleys and roof flashings.
Broken tiles. Alligatoring on low slope roofs.
Missing granules on asphalt roofs or excessive deposits at downspouts exits.
Broken and cracked shakes. Discoloring and Curling shingles or shakes.
These signs mean it is time for an inspection by a licensed roofing contractor. The dog may be right! It may be time to Roof~Roof.
Tip - To inspect your roof, stand away from the house and by using a pair of binoculars you can see your roof better.
Have a question? AskARoofer HERE 
Need a contractor?  Check out our list of Roofing Contractors HERE.