When their reroof failed after only 15 months and they couldn't identify what kind of shingle they had, this Minnesota homeowner turned to the experts for help and answers.
Homeowner Melanie from Minnesota had their home reroofed after a storm in Minnesota and just 15 months later it was already failing. The contractor and manufacturer had difficulty identifying what type of shingle Melanie had, so she asked the experts. The following is an email conversation, facilitated by AskARoofer, between Melanie in Minnesota and roofing expert John Kenney from Cotney Consulting Group.
Melanie: Would anyone happen to know what type/brand of shingles I have on my roof? My new roof was installed in December 2021. I contracted to have IKO Dual Black installed (documented on the contract) and within the first year my roof started to bow and buckle with shingles swelling and curling upwards, they had a look of wet cardboard.
One of the shingles (shown in the picture) lost some of the asphalt leaving behind an exposed thick woven type of Jute fabric, the asphalt seems to sit on top of it not embedded into it like all of the shingles I have researched (I know very little about roofs and shingles, but something didn't seem right). I reached out to IKO and they said it's similar in looks to Cambridge but the tooth sections are too big and that they had never seen anything like it (the fabric). This came from two different members from IKO trying to help me identify my shingles. One spoke to several colleagues, and they couldn't identify it either.
A family member who also recently had their roof redone with IKO Cambridge had a few sheets of shingles left over along with some smaller cut off pieces, so they tried to replicate ours by picking off some of the top part and they couldn't. They were able to break off a small section and the fiberglass was fully embedded into the shingle and not a solid woven fabric. The fabric itself doesn't look or feel like fiberglass, it looks/feels more organic like Jute or Burlap.
Every shingle I've since researched does not have that thick woven material in it as a core or base, so I don't know where else to look or turn too. The contractors never left any extra shingles to help identify, so I'm thinking my last option is to try and lift some sheets from my roof to get a possible batch number from them if they have one.
I have the contractor saying they are Cambridge and I have the shingle manufacture telling me they aren't. Please help! My roof is falling apart only 15 months after install. Any advice anyone can offer would be greatly appreciated. Thank you!

John Kenney: This one is bizarre. I am not sure who manufactured this shingle. I agree with IKO that it is not one of their products. If it was Cambridge, it would have fiberglass reinforcing matt.

My opinion: this is some sort of organic mat that I have not seen. Most organic mats are saturated with asphalt during manufacturing which this one has no asphalt saturation. I am not even positive if this shingle was manufactured in the US or Canada. No major manufacturer I have researched has a shingle and organic mat like this.

I have sent this to a few other roofing experts. I will send you their answers once I hear back. Keep in mind that sometimes can take a couple days.
I hope this is somewhat helpful!
Melanie: Oh my gosh, thank you so very very much. I felt I was going bonkers as I thought it would be a simple find to figure out what and whose shingles these are even though it says on my contract IKO Cambridge Dual Black, I had a feeling something was off. I've been trying to figure it out for the past 6 months when my garage roof started caving in on the south side (8 months after install) and my shingles looked like wet cardboard when fully saturated. I have a structural engineer coming over next month as well since this has turned out to be a whole big mess.
This has all been quite the process after my house was hit badly by a storm. Sadly, it's not just my roof that's falling apart and caving in, my new siding is also falling off, bowing and buckling. I truly appreciate you for taking the time to help me find some answers.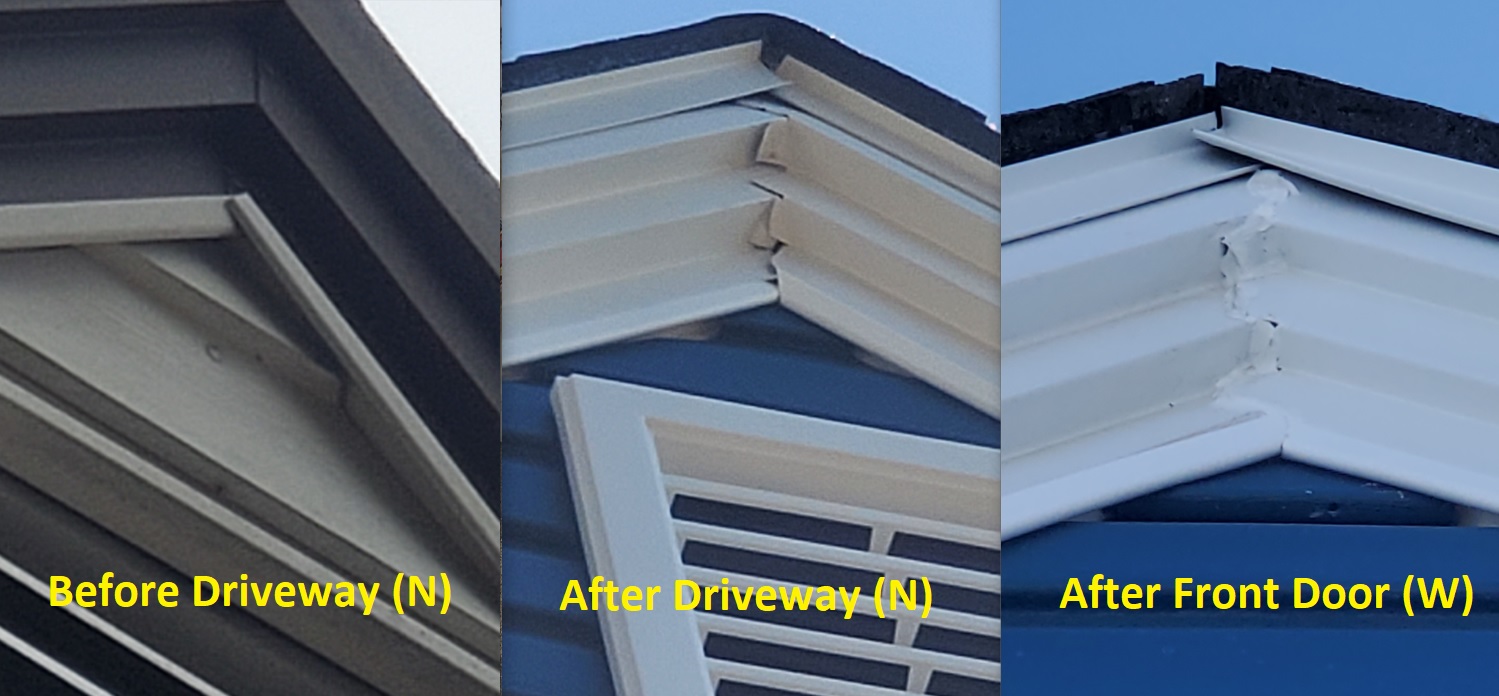 I too think it could possibly be an organic style shingle, there is so little info out there on them apart from all the lawsuits.
I think they may have mixed and matched shingles as my garage looks different than my house, but I could be wrong, as I can see the garage roof and touch it by standing on a stool where on my house I can't, I can only really see by the images I take or by climbing a ladder.
The roof was installed in the middle of a Minnesota winter, I was concerned with it being wet and cold but was reassured by the contractor that it was ok to do. They didn't tarp it before they left for the day and my sheathing got wet on the garage and the underlayment got wet on the house. I believe they shingled it the following day.
I just hope that any information I can provide will possibly help as I don't know much about roofing/siding and shingles, I just know something has gone horribly wrong.
Thank you so very much again for all your assistance.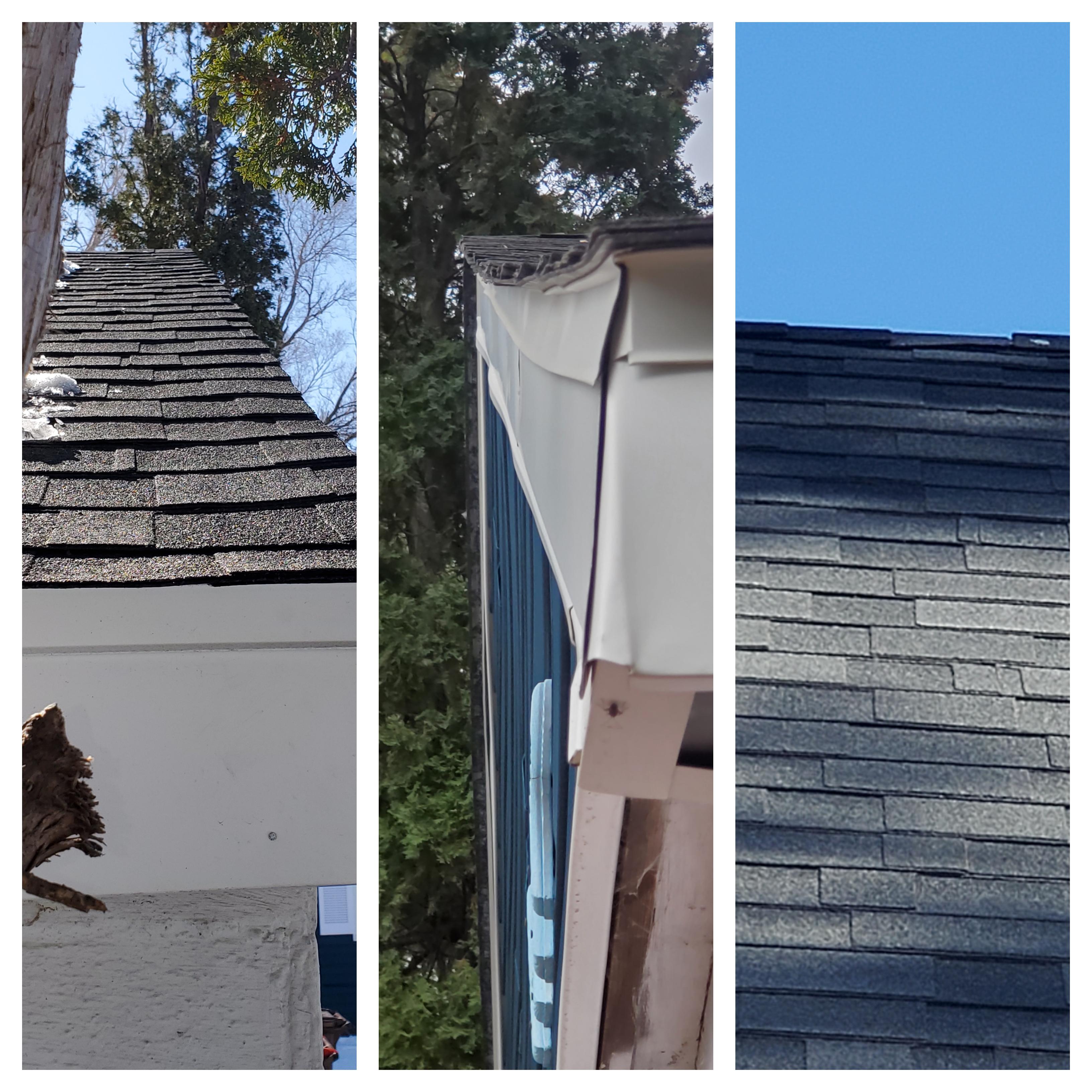 John Kenney: From looking at these photos, I agree something is wrong, and it looks like poor workmanship on top of the shingle that we can't identify and is not performing. These may be older, out-of-production organic shingles that were stored somewhere the roofer picked them up, it is hard to tell, but they don't look right.
The exposed reinforcement we saw without asphalt saturation probably allows water to wick through the granules to the underlayment below, which will cause the water under the shingles and leaks. I do not feel there is any repair solution here. Unfortunately, the only option is replacement with quality shingles by a professional contractor. Maybe you can contact a local Roofing Contractor Association, and they can recommend a roofer in your area to come out or the Minnesota Department of Labor and Industry - Residential Building Contractors at 800-342-5354 to see if the installer has any existing complaints filed against them.
I also listed below a couple of our R-Club members - they're roofing contractors in your area. As well as the Midwest Roofing Contractors Association. I hope that you're able to find a reasonable solution!
Thanks Mel, good luck!
Continue the conversation in our Forum!
Have a question? AskARoofer.
Find your local roofing contractor in the RoofersCoffeeShop® Contractor Directory.