In the 1930s there was an asphalt shingle and roofing manufacturer in East Saint Louis called Old American. It was a division of American Asphalt of Kansas City.
In those years it was common to make shingles using rags. Yes, common rags were shredded and chopped into small pieces then blown into what was called a beater room. The beaters are large tubs with rollers that crush these chopped up rags, and thoroughly mix them with water, to a smooth consistency that removed all the lumps and bumps to make what we call a pulp. This pulp now would go through a process of dehydrating, pressing and compressing with machines making a stock felt. Umm, ever wonder why we roofers call tar paper, felt? Now you know the roots of this name are from this felt made from rags as just described.
This felt would be rolled up into large rolls and trimmed to a useful size and moved to a saturating area, where it was placed into a tank of hot saturant and then a coat of asphalt tar would be applied.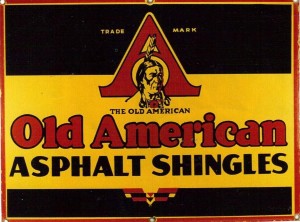 The surface could now be coated with stone granules, giving the shingle its weather-resisting qualities and providing several options of colors. The final construction is to cut and shape the mat into a roofing shingle very common to what we see today.
This is a company sign from those days. These asphalt shingles and other manufacturers have been apart of the steep slope residential roofing industry for many years. The asphalt shingle has improved in leaps and bounds, with better warranties and amazing designs the modern home today.
The manufacturers today produce awesome designed shingles like the Certainteed Presidential Shake TL, The Owens Corning Duration with SureNail Technology, The GAF Woodland, PABCO Cascade Diamond Cut and the TAMKO Heritage IR Series. These shingles don't use the old rag mat like Old American but have learned from earlier manufacturers how to build a good shingle and roofing products to able to withstand the harsh climates for many years of performance.
Have a question? AskARoofer HERE
Need a contractor?  Check out our list of Roofing Contractors HERE.