These are special cut shingles that typically are applied to the exterior walls of a building or home.
Butt shingles come in several shapes and designs. Made from a clear heartwood, western red cedar, they are rather costly to use on the whole roof or entire wall of a home but most are used just as an accent. Today, pictured above, we have a small gable end we are going to give a face-lift too, using the scalloped or some times called fish scale fancy butt shingles.
This job was done prior to the roofing and dry rot repair we were also contracted to do. When installing a sidewall shingles like this, you must have a good termination point between the shingles and other wall covering or in this case a " starting point." In this photo, you can see we have installed a new 2 x 12 Hem Fir that covers an underlayment and header over the garage door opening. Then a metal Z-Bar to insure no moisture intrusion from our new fancy butt shingled wall.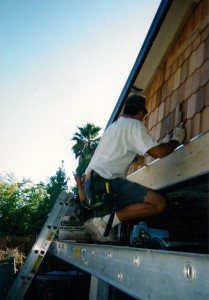 I personally like to use #30 roofing felt to wrap the wall before the cedar shingles are applied, since this tar paper is readily available to us as roofers, not to mention it works great on the roof so it will perform very well on the walls also.
Fancy Butt shingles shown here today are laid at 6.5 inches to the weather and as you can see have a wonderful natural wood appeal to them when newly installed. These shingles will turn grey and shades brown in color as they age and in this case on a gable end weather different from exposure to rain. Some choose to stain or paint the walls and both help the natural resistance to decay the cedar wood has.
Cedarwoods resistance to decay makes great exterior wall coverings.
Some claims up to 40 years for a wall covering like this. It also adds a nice accent to the front gable of any home. These designer shingles come with diamond, round, diagonal, octagonal, cove, hexagonal, and fish scale fancy cuts, and when painted give a real custom look to your home.
These types of shingles can be purchased from most roofing supply yards and if not available can be special ordered. Email me if you like, I have a great supplier I can refer you to if needed. They will ship as little one box which covers 20 square feet at 5 inches to the weather.
Have a question? AskARoofer.
Find your local roofing contractor in the RoofersCoffeeShop® Contractor Directory.