Rain Gutters and Downspouts have been around to control water draining from our roofs for centuries.
Rainwater can do much damage to landscaping or the dwelling if not controlled by downspouts or waterspouts directing water out and away from a building. Many architectural stone sculptures depicting some sort of animals can still be found on very old historical buildings and still function as a working part of the rain guttering system.
Over many years the downspout has been made of stone, clay, wood, chains, steel pipe, and copper just to mention a few. Every once in awhile I come across a contractor or manufacturer that does something very special with his trade and recently I discovered ART OF RAIN . Vladimir Sumchenko and his son Max produce some amazing craftsmanship. From Range Hoods, Chimney Tops, Water Fountains, and Downspouts . . . . you'll be amazed at their old school talent being used on our homes today.
Custom Made Downspouts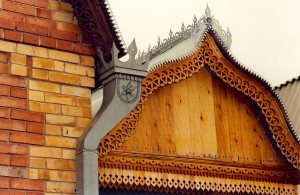 Here to our top left is the results of Vladimir's long hours and hard work to fill the request for an African Elephant downspout. From the many ideas and drawings Vladimir Sumchenko has captured the perfect form and shape of a pair of functioning downspouts for this home. Bull horns were used for elephants tusks and dark glass beads for eyes. With the patina of the copper, this makes a perfect feature of this home!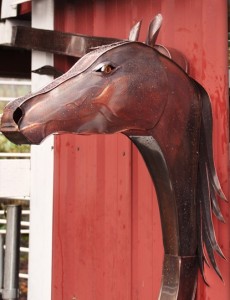 Vladimir's first job was at his own local church in Ukraine, using stainless steel to custom make rain downspouts. His skills soon attracted much attention and from word of mouth, his talent spread quickly around his community. These skills continued and with his son Max, this family was very successful. Learning from his father's skills and trade secrets the family came to the states as persecuted Christian refugees from the former USSR and settled in the Portland, Oregon area. Using copper to replace stainless steel, Vladimir used to use, they continue using their craftsmanship, ethics, and style that has become very popular even though in their line of work is almost 100 years old.
Have a question? AskARoofer HERE
Need a contractor? Check out our list of Roofing Contractors HERE.