By Karen L. Edwards, RCS Editor.
Unique metal roofing tiles create beautiful works of art on more than just the roof.
Professional roofing contractors know that a beautiful roof job can be a work of art, or even a masterpiece. At RoofersCoffeeShop®, we see photos of thousands of art-worthy roofing work, but when we saw the photos sent to us by Steve Clisset, Clisset LLC of his Dragon Armor Metal Shingles we wanted to find out more.
Steve has been in the roofing industry for over 47 years and has always prided himself on offering a lifetime warranty on his work. He also strives to help the industry grow and improve. He developed a premier roofing training program for the Colorado Roofing Association and was the only trainer for the first five years. He also has become a certified trainer for the National Roofing Contractors Association, along with inventing numerous products that have helped increase efficiencies for roofing contractors, holding three patents for these inventions.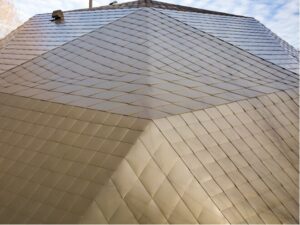 He now creates masterpieces through his latest invention called Dragon Armor Metal Shingles. It's also for more than just roofs. Steve wrote in an email to me, "The proprietary Dragon Armor Metal Shingle is unique, and custom designed for roofs, walls, interior finishes, kitchen and bath accents, wainscoting, ceilings, and more, and will make any property or project stand out! The exclusive look, feel, and function of Dragon Armor Metal Shingles will make an unparalleled statement of beauty, quality and permanence."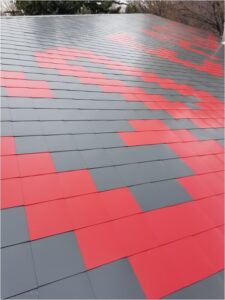 "The system looks expensive but in a standard roof situation, it's just a little more than a standing seam roof," he explained. "In a difficult situation this product is ideal because our product fits precisely. Once we get the geometry right, the rest just flows into place. The more difficult the roof, the more competitive we become."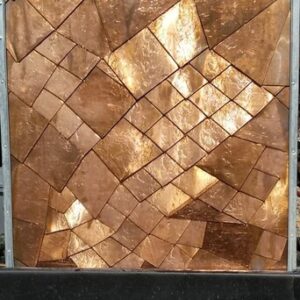 Steve's business partner reminded him to tell me that these tiles are for much more than the roof. "What we can do is not limited to roofing. I did a shower stall, siding, wainscoting, interiors, and a copper awning on the outside of a bathhouse, even water fountains," explained Steve. "We measure precisely and make adjustments, we CAD draw the templates, cut them out and using a machine I designed to make folding pretty quick, we manufacture two to three pieces per minute. Then we install, controlling the process start-to-finish"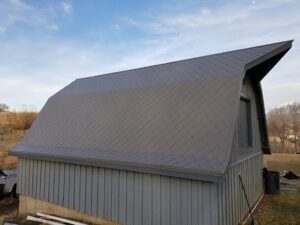 As far as performance, Steve shared that it is guaranteed to withstand 130 mph wind and because the pieces are smaller than traditional standing seam metal panels, oil canning is never a problem.
Discover more at www.dragonarmorshingles.com or email steve@dragonarmorshingles.com.