The Doty Lumber and Shingle Company were formed in Lewis County, Washington.
After many years of developing a lumber company. Mr. Doty partnered with G. A. Onn in 1904, who was a proprietor of a shingle mill. Mr. Doty became the president and manager of the new company, with G.A. Onn taking the vice president role and overseeing the shingle mill. The lumber and shingle mill had a large daily capacity and built eleven miles of logging roads to handle the three hundred men and conduct the business of the logging with steam-powered mills.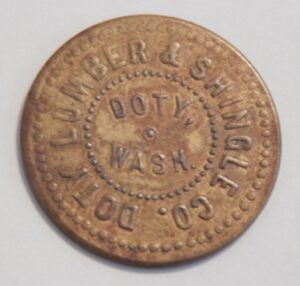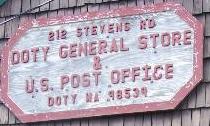 The town of Doty also had with a hotel, stores and homes for the many lumbermen. Dry kilns were built and the Chehalis River was dammed to provide a pond for storing the logs. The town of Doty was so successful it had its own Western Union Telegraph Office and its own water and light plants. Here is an example of some of the script that the loggers used as money, just like the coal miners of West Virginia used. Mr. Doty and Mr. Onn ran this lumber and shingle mill until August 20, 1910, when it was sold to W. B. Mersereau. Doty was one of the largest shingle mills in those days.
Today, about 250 people reside in or around the Town of Doty. It has a general store, post office, fire department, and two churches and I bet if you ever get up to visit this area, you will see a lot of history and maybe if you look hard enough, you may even see a BigFoot. Logging and farming are the industries that most of the residents rely on for income in this part of the North West.
Have a question? AskARoofer HERE
Need a contractor?  Check out our list of Roofing Contractors HERE.