Buckling plywood could mean there are problems with ventilation or condensation.
Chris, a homeowner from Virginia, asked:
My roof that was installed in 2005 (full plywood replacement) recently has begun minor buckling that appears to be caused by H-Clips bending. Everything is installed correctly. Anyone ever dealt with a similar situation or have any input about what could be causing this to occur?
Chris, there could be a couple of different things happening with your roof that would cause this buckling problem. Most attics generate heat from the living space below - it naturally rises through the insulation. Or maybe a dryer vent is dumping hot air into the attic and not exiting out a roof flashing. If the attic does not have enough ventilation this heat causes condensation when it meets cold surfaces, like the bottom of the sheathing that has a load of snow on the roof. You folks in Virginia received record snowfalls this year. When the roof sheathing gets damp from condensation it swells, or what we call expands, and if the edges are not spaced correctly it has no other option but to buckle upwards or downwards. This is maybe why your H clips got bent, it was from the force of the buckling. Roof decking needs to be spaced.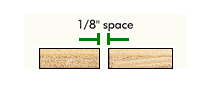 APA recommends using a 10 penny box nail as a spacer
The primary functions of the American Plywood Association (APA) are to provide product certification and testing, applied research and market support and development of wood products like OSB (oriented strand board) and plywood, just to mention a few. They say "using a #10 penny box nail as a spacer is a way to gap the 1/8 inch needed for panel expansion." Please watch this great video where Mr. Clark of APA explains this concept.
Of course, this is important to do before the roof is installed. So what do you do to repair this without removing the roof?
Since the expansion is a result of moisture getting to the wood, then that attic must not be ventilated properly. The recommended amount of ventilation without a vapor barrier is 1 square foot for 150 square feet of attic space. This also must be a balanced system. The goal is 50% intake and 50% exhaust. There are many ways to ventilate an attic. Seek a licensed roofing contractor to provide this service and design a balanced ventilation system for your attic to avoid future buckling of OSB or plywood.
Have a question? AskARoofer.
Find your local roofing contractor in the RoofersCoffeeShop® Contractor Directory.