Bird Shingles, one of the oldest manufactures of roofing products in the USA. Starting a business when George Washington was President of our country.
The founder George Bird secured a license to build a paper mill using water wheels from the Charles River as the power plants. This plant was near Dover and was not far from Boston, Massachusetts, a key hub to Bird's success, as this area became most popular for the sale of his paper products and roofing for over the next 200 years.
George Bird refined his paper so well it became a big demand for writing. He became well known for his paper and in 1812 secured a contract with the United States to provide the rag paper on which the nation's currency would be printed on. The steady growth of the company warranted a second mill to be built on the Neponset River in East Walpole, Massachusetts, in 1817.
Many years of success continued with his sons joining the companies. As many times in those days, the main Bird mill was destroyed by fire in 1880. Then one of the worst floods in Massachusetts history destroyed the other. This ruined equipment used for making the fine writing paper on which Bird's reputation had been built.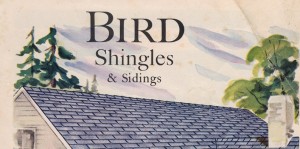 Charles Bird and Sons having only equipment used to make course paper within a few months created a waterproof building paper. Named Neponset after the River the second remaining mill still existed. This became the first felt-based asphalt roofing product on the market. Soon after that the asphalt shingles became a large part of Birds product line, and flourish until the 1980's. By 1995 Bird had struggled to sell off many holdings. CertainTeed was trying to acquire them in the mid 90's. Now CertainTeed owns the IP of the 200 plus years of this company.
Have a question? AskARoofer HERE
Need a contractor? Check out our list of Roofing Contractors HERE.