Do's and don'ts of replacing a barge rafter.
"When you have a peak about 30′ up on the side of a house with a wall all the way up, how do pros install the fascia? Do they use scaffolding or just big ladders? Thank You, Sam."
Although this picture is not thirty feet up, it does show the man on the left positioned the roof reaching over to nail the Barge Rafter to the out-rigger. You will need two men to do this. There are normally 2×4 out-riggers about every four feet to nail the new Barge Rafter or what you called the fascia. Use the out-riggers to support yourself, DO NOT stand on the overhang board. They will collapse without the support of the Barge Rafter and a nasty fall could occur. I advise personal safety equipment to be used. Do not attempt to do this job, it should be left for a licensed contractor to do. This photo was a total roof removal and access is easy to replace the barge rafter.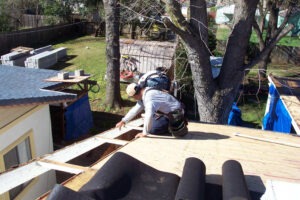 To remove a Barge Rafter with the roof still on is a bit tricky. The Barge Rafter is nailed with two nails into each of the out-riggers. Using a cat's paw, to pull these nails. If the rake or edge of the roof has a metal drip edge, you will need to remove it without damaging the shingles. The roof sheathing should have nails into the Barge Rafter every 6 inches. These need to be removed. I would use a Sawzall to cut the nail between the top of the Barge Rafter and the roof deck. Nail the new Barge Rafter to the out-riggers. Fastening the overhang to the new barge rafter will be hard and loosening the shingle will have to be done to lift them out-of-the-way to nail the overhang.
As seen in the upper photo pre-painting the wood prior to installation is a time saver and I highly recommend it. It is easy to do a little touching up than paint the whole board later. Again use a professional for this job because it is very dangerous and more skill is needed than most DIYer's jobs around the home.
Have a question? AskARoofer.
Find your local roofing contractor in the RoofersCoffeeShop® Contractor Directory.