By Lauren White.
Roofer's date night takes a splashy turn as he risks his life to save a man trapped in a submerged truck.
While driving home after celebrating their second wedding anniversary, Branden and Sierria Delk noticed something odd that caught their attention. Off the expressway, Branden sees a pickup truck submerged in a retention pond. He drives closer to the exit and realizes this is a recent accident.
"It's like dark – you can barely see. I'm kind of confused as to what's going on," Branden tells Jermont Terry of CBS Chicago. "And as I get up a little bit more on the ramp, I notice his headlights are on. So I'm like, this can't be an old accident. This obviously hasn't been dealt with."
Branden, who works with Alamo Roofing Contractors in Portage, Indiana, soon discovers there's a man trapped in the pickup. He starts yelling to see if the person is responsive. Dressed for a nice night of celebration, Branden jumps into the pond, suit and all, to help save the driver as the truck continues to take on water.
Sierria watches nervously from the bank as her husband climbs on top of the truck trying to figure out how to get the driver to safety. When asked later if he thought twice about jumping in, Branden responded, "No, I wasn't really concerned about my own safety."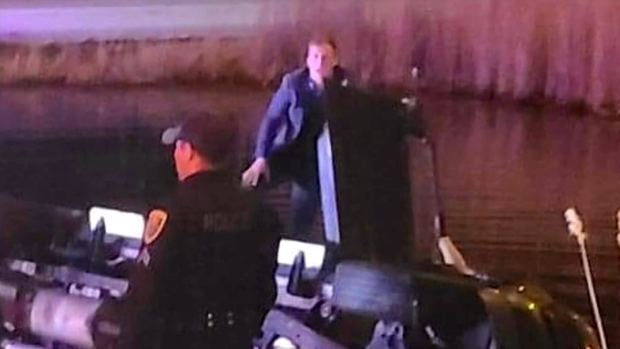 Water is now up to the driver's stomach as Branden continues his attempts to get the driver out. "So what ended up happening, after relentlessly trying to beat it with a sign, we had a rock, we had feet – we were trying to do everything, or at least I was – finally an officer ended up pulling up. Before he got in the water, he threw me his baton," Branden recollects. Using the officer's baton, Branden is finally able to break the window and free the driver from his sinking truck.
After 20 minutes, which felt like an eternity to Sierria, Branden and the driver were safely on shore. It's unclear what caused the driver to lose control of his truck, but one thing is certain, Branden and Sierria have an anniversary they won't forget anytime soon.
Have a question? AskARoofer.
Find your local roofing contractor in the RoofersCoffeeShop® Contractor Directory.
About Lauren
Lauren is the editor for RoofersCoffeeShop and AskARoofer™. When she's not writing or Googling roofing terminology, she's adventuring with her puppy Kira and watching sunsets. Learn more about her here.
Photo credit: CBS Chicago