Understanding Roof Restoration Episode 1 - What is The Difference in a Roof Coating And a Roof Coating System?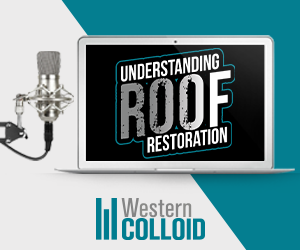 The Understanding Roof Restoration podcast dives deep into the topic of restoring commercial roofs. As the popularity of roof restoration continues to grow among building owners and contractors, there are many questions that arise. With a wide variety of roofing systems on existing buildings and many available restoration options, we turned to the experts at Western Colloid to answer your questions on roof restoration. Greg Hlavaty, Hal Leland and the team at Western Colloid have been manufacturing and installing these systems for more than 50 years and they have seen it all! We will tackle a different topic each month and answer questions submitted by you, our listeners.
Download the Understanding Commercial Roof Restoriation eBook.
---