Bob McCrickard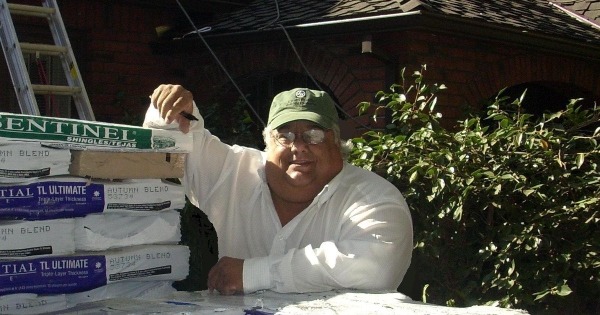 With aspirations to be a pro golfer when he was 10, Bob took a different path and became the go-to guy for all questions roofing.
A longtime friend of RoofersCoffeeShop® (RCS), Bob "ShingleWeaver" McCrickard and his beloved AskARoofer are now forever a part of the RoofersCoffeeShop group. When he sadly passed away, it was his desire that RCS preserve his legacy and continue with his eagerness to help homeowners (and contractors alike) with his innovative AskARoofer website. Since its founding in 2005, Bob has written hundreds of blogs and answered almost 20 years worth of questions. He always felt he should give back to the industry that provided him with such a fulfilling life.
Bob supported RCS from the very beginning when it was still called Roofers' Exchange. In past years he has sent in photos for contests and contributed to the RCS Forum. Bob recalled his first encounter with RCS in an interview with Vickie Sharples, RCS partner, "I found the Roofers' Exchange newspaper laying on the counter at Pacific Supply. I can't recall the year but I would say very early, when not many guys knew about it. I loved reading through it and it was just a natural thing for me to hit the site on the web that was advertised." Not many people were using the internet then, but Bob was eager to connect with other roofing professionals and share his expertise.
After realizing he was "better at carrying a golf club than swinging one," Bob quickly forgot about his dream of being a pro golfer, and in 1971, he started his career in the roofing industry while he was still in school. During the summer months he worked for a couple roofing companies, Fred B. Curtis, Superior Roofing and Fred Eddy Roofing. He recalled his early experience, sharing, "I was taught to hand nail cedar shakes and got paid a buck a bundle. Getting 30-40 bundles a day I was productive and I always had a jingle in my pocket." A few years later, in 1979, Bob joined the Carpenters Union 1147 in Roseville, California and worked as a journeyman shake man for Jim Davis and Frank Shoemaker of Dynamic Roofing.
Later, Bob started his own company, Sacramento Shingle Company. From 1989 to 2003, Bob ran the company with his father and brother. He then shifted his attention to skylights, but was bought out by a large corporation, which is when he decided to become a self-employed roofing consultant in Sacramento, California.
Like many other roofing professionals, Bob came from a family of roofers. His father, Bob Sr., was his main influence growing up and his inspiration to become a roofing contractor. He recalls the first roof he climbed up with his father, "I was handed a hatchet, leather bag and nail stripper by him. He showed me how to finger the nails using a nail striper and swing that shingling axe with rhythm tick~bang…tick~bang…tick~bang…tick~bang." Bob continued, "Honestly my rhythm in the beginning sounded more like tick~tick~bang~tick~bong~tick~ouch, then bleeding started. If you ever hand nailed you know what I am talking about." He grew up learning skills and techniques from good shake men Ernie Norton, Bob Foss, Richard McCray, Joe and Sam Williams and his father. "I continue to learn every day of my life. You can learn a lot if you are open minded. Some of the new guys come up with great new ways and ideas to do a project."
In 2005, Bob launched AskARoofer as a way to share the knowledge and experience he gained while working two decades in the roofing industry. He wanted to give back to a community that supported and sustained him. Now, the site is much more than a forum for roofing questions. AskARoofer comprehensively covers everything from finding a contractor to assisting seasoned roofers in complex situations.
By his estimate, Bob installed over 38,000 squares of residential and commercial roofing in his twenty years of experience. It's easy to see the wealth of knowledge he shared with his readers. There's something for everyone on AskARoofer whether you're an experienced business owner or simply a person in need of a reliable roofer.
"The most common questions I get from homeowners are 'Can I do it myself?' and 'How do I find the best roofing contractor for me?'" Bob said. "I've compiled a list of resources to assist customers in hiring the best contractor for them." And while he understood that economic circumstances can sometimes lead homeowners to do their own roof repairs, he generously answered any how-to question but didn't skimp on safety. According to Bob, "Safety is top priority in the roofing business...I'm quick to let the DIY group know when it's time to call a professional."
Bob would also field questions from experienced roofers looking to expand their knowledge, grow their business and better serve their customers. He provided roofing professionals with tried and true methods of installation, application, as well as innovative techniques and emerging practices. These questions came from all over the world - the United States, Canada and several European countries. In addition to answering submitted questions (most within hours of submission), he wrote over 200 articles.
Throughout his career Bob had many roles, including installer, manager and company owner, in addition to salesman and consultant. He shared that the most valuable lesson he learned from being in business was, "Associate yourself with the best in the marketplace. From tools, men, equipment, sub-contractors, yellow pages etc. They can make you look good or they can really make you look bad."
Bob's advice for those just starting their careers in roofing is, "Don't be afraid to start at the bottom and don't give up, learn by installing then move up to management, then maybe running your own shop. Keep it simple for as long as you can resist. Let your growth happen naturally to make a strong durable run. It is a great business to be in, with lots of experiences and friends to be made."
When Bob wasn't roofing or answering questions, he liked to dredge for gold in the summer months. "Being underwater is like being in a different world with many things to look at...Getting out and the lure of finding a big gold nugget is exciting for me," Bob recalled. He also liked to collect old photos and old roofing memorabilia.
As Bob reflected on his career, he shared, "The roofing industry has been good to me. The community has always supported me, from my days as owner of Sacramento Roofing Company and now as a Roofing Consultant. It's my turn to give back. My hope is that through AskARoofer, the knowledge, skills and experience I've gained will educate consumers, inspire roofers and challenge the industry to be on the cutting edge of roofing technology."
Thank you for all your hard work Bob, it is our honor to continue your legacy.
Have a question? AskARoofer.
Find your local roofing contractor in the RoofersCoffeeShop® Contractor Directory.
---