By Kate Smith, Sensational Color.
Here's a complete guide to understanding color cast for homes with stone or brick.
When changing your home's exterior, it's essential to understand color cast, especially for homes partially or entirely covered in stone or brick. However, only some people know what color cast is. And, few people know how it can actually help you find the best colors for your home's overall color scheme.
We're going to change that today. This is when you find out why I say color cast rather than color and how understanding color cast can be the key to creating a fantastic scheme.
What is color cast?
Color cast describes the colors of stone, brick, roofing or other hardscape materials. These surfaces are not a solid color, but they're usually a mix of colors. Their beauty is in the depth and variations of colors. The term "color cast" best describes the color that brings together all other colors in these materials.
You may have heard photographers use color cast when describing an unwanted tint on a photographic image. Maybe its been caused by sunlight, incandescent or reflected light. If you have ever seen a slightly yellowish photo, that is the result of this light, and is called the color cast.
Now think of this idea applied to stonework, bricks or roofing material. The color cast is a color that washes over all of the hues in a blend. The colors throughout are not all the same, but they have a tinge of color common to the overall mix.
Repeating the same tones from one feature to the next
Identifying and repeating the primary color or color cast from one fixed feature to the next visually ties the exterior scheme together. When all the permanent elements harmonize, it sets the stage for a bespoke exterior color scheme by opening up options for a wide range of colors.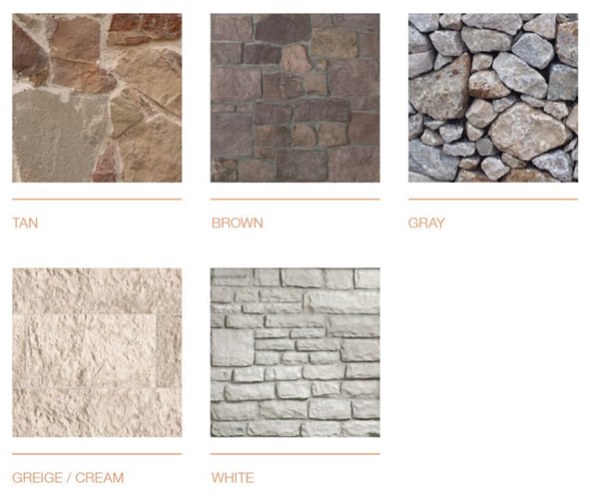 Let the stone be the starting point for your scheme
If you are building a new home, select the stone and roof first and then create a color scheme to enhance these features. Most stonework has one of the above five color casts. When choosing colors for your stone home exterior, find paint or materials that blend with or complement the stone's predominant colors or overall color cast. All the colors in a scheme must harmonize with the stone to create the best look.
In addition to looking at the fixed features, consider the other four FRESH steps. You can find the details of how to do that in the ebook FRESH Home Exterior Color Schemes for Brick and Stone, which is available free from DaVinci Roofscapes.
Continue choosing your stone exterior scheme
As you move ahead with your stone exterior, consider the overall color cast and any colors that stand out in the mix. The overall tone could be gray, tan, brown, greige, cream, white or another color.
The primary color of your home should blend with your stone's tone. That doesn't mean it must be in the same color family. For example, you could select blue for your primary color with gray rocks, but a grayed blue will blend with the stones better than a bright, clear blue. If the mix of rocks includes a color that truly stands out, a more robust version of that color might make an excellent choice for your shutters or front door.
Stones with a tan color cast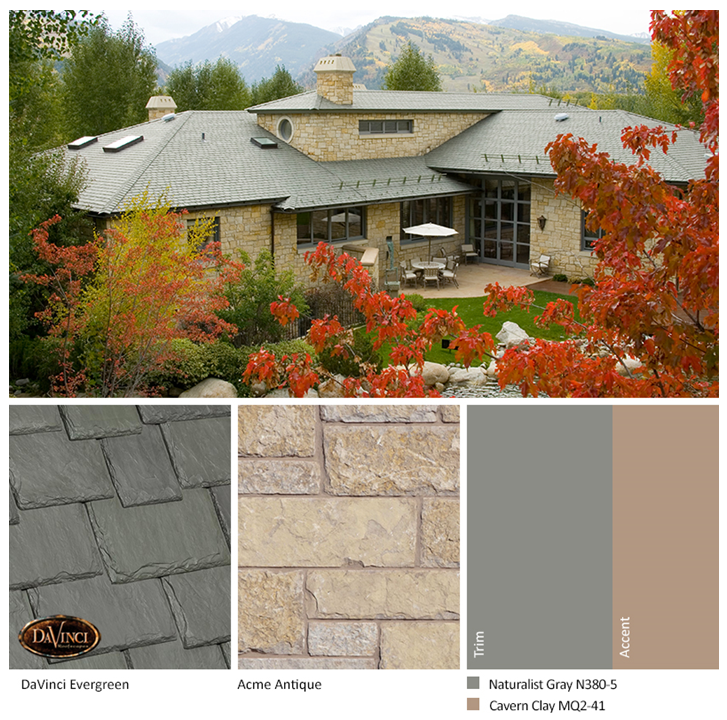 The warmth of stones with a tan color cast makes them a popular choice for home exteriors. Tan can be neutral or lean toward another color, such as gold, green, peach, or coral. Noticing your stone's subtle nuances will help you find a harmonious color scheme for a tan stone exterior. Would one of these "Five Terrific Tan Stone Exterior Color Schemes" suit your home?
Stones with a brown color cast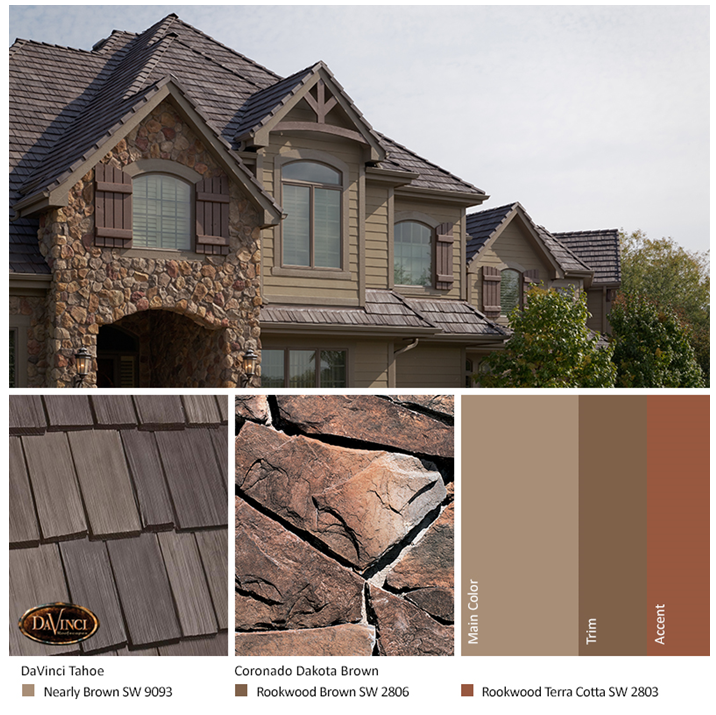 Like in the natural world, earthy brown can stand alongside all color families. Hues based on those you see in nature are perfect for the brown stonework on your exterior color schemes. Colors that are toned down will look best.
Stones with a gray color cast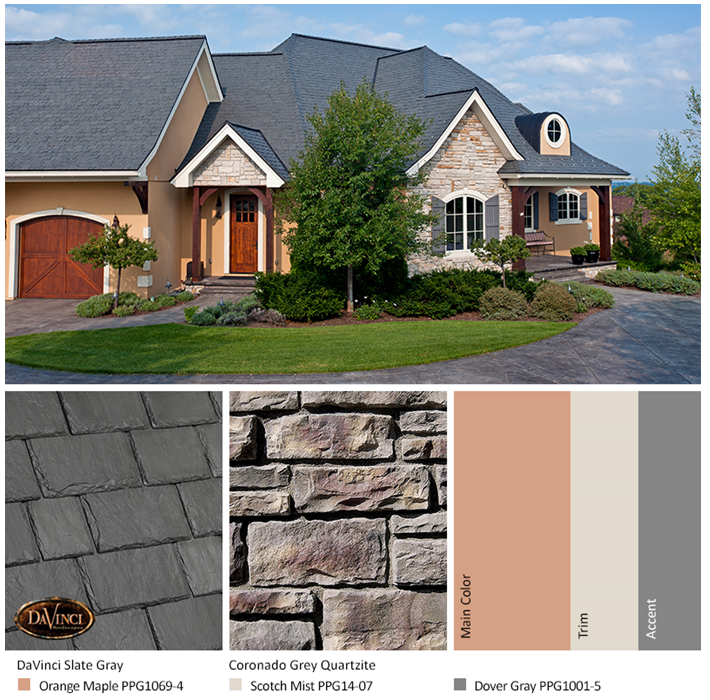 A versatile neutral gray stone looks excellent in an all-neutral scheme or takes on many shades of color: dark, medium or light to create a grand gray stone exterior color scheme. Here are "Five Great Gray Stone Exterior Color Schemes" to consider.
Stones with greige or cream color cast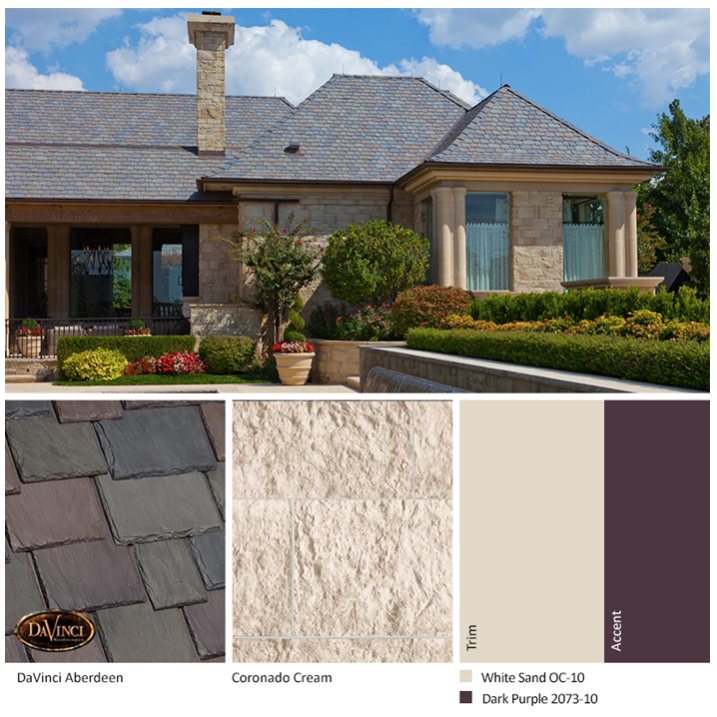 It may seem odd to describe stones as "soft," but that is exactly how the color in greige or cream feels when contrasted to darker stones. For the best results, match the softer qualities of the stone to the primary colors in the palette you create and keep the higher contrast colors for your accents. Check out these "Five Gorgeous Greige and Cream Stone Exterior Color Schemes."
Stones with a white color cast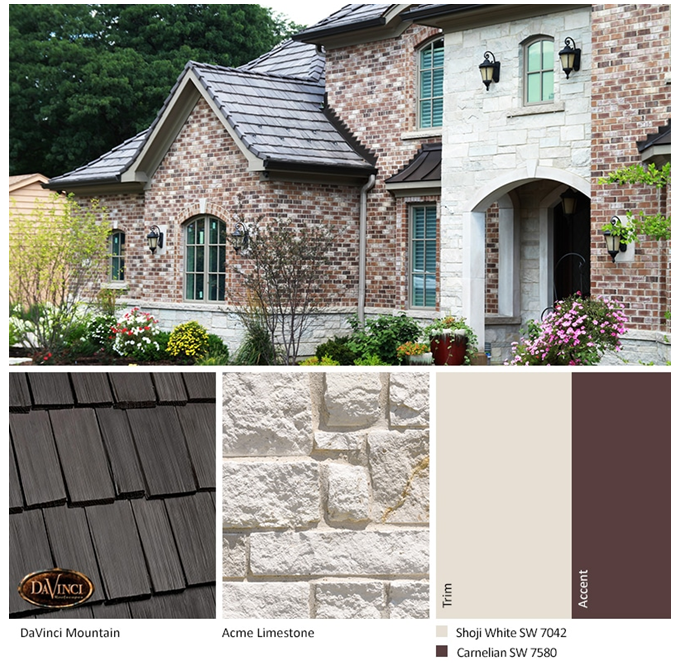 White stone makes a statement, whether alone or combined with brick or other materials. When combining white stone exterior color schemes, you can choose contrasting colors or let the texture take the lead with a tonal palette. Here are some ideas to get you started. Here are some ideas to get you started — "Five Wonderful White Stone Exterior Color Schemes"
The color cast of brick
Do you have a brick, or partially brick home? Then you need to begin by determining their actual color.
Your first thought might be that the color of your brick is simply red. But look closer. Your brick can have a cast of another color. It may be closer to pink or brown than red. Bricks come in various styles, but most will have one of the six most common color casts.
Most brickwork has one of the above — red, tan/buff, white/cream, pink, gray, brown or black. These are the colors you usually see on residential exteriors. Within each color group, you will see bricks predominantly in that color or with a cast of that color. You need to determine the color and the color cast to select the best color scheme.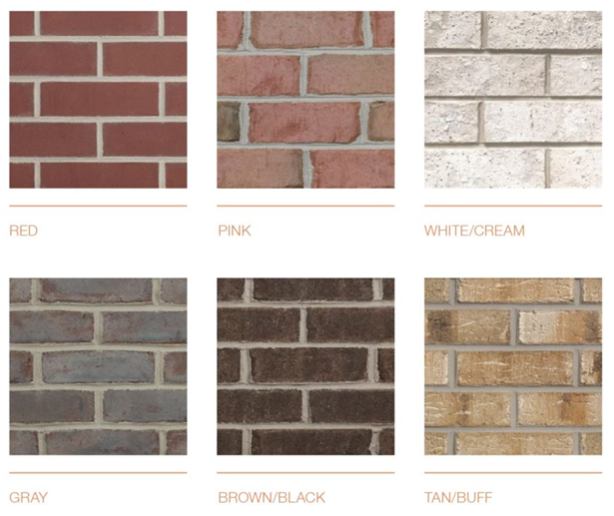 Brickwork with a red color cast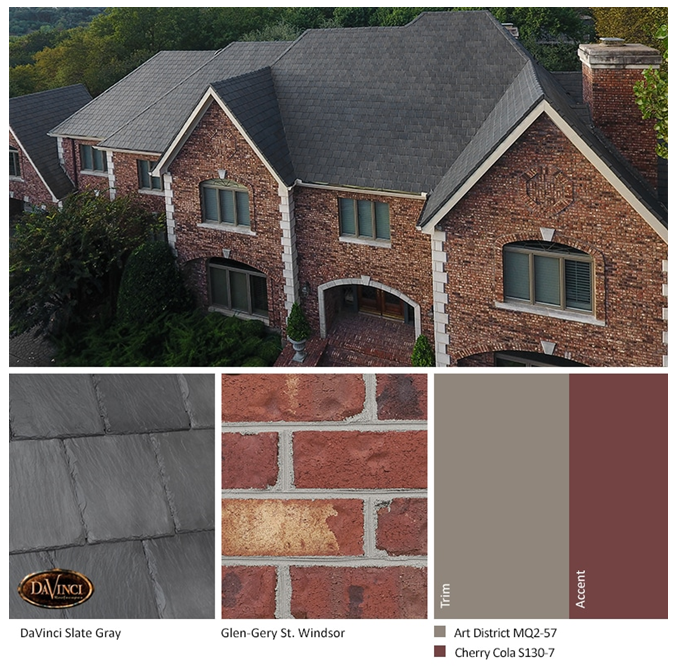 There are many colors and types of brick, but the most popular by far is red. This classic, all-American look has a timeless appeal. Your red bricks play the lead role in the color palette, whether they have clean, straight lines to rustic uneven edges. Looking for inspiration for your brick home? See "Five of Our favorite Red Brick Home Exterior Color Schemes."
Brickwork with a pink color cast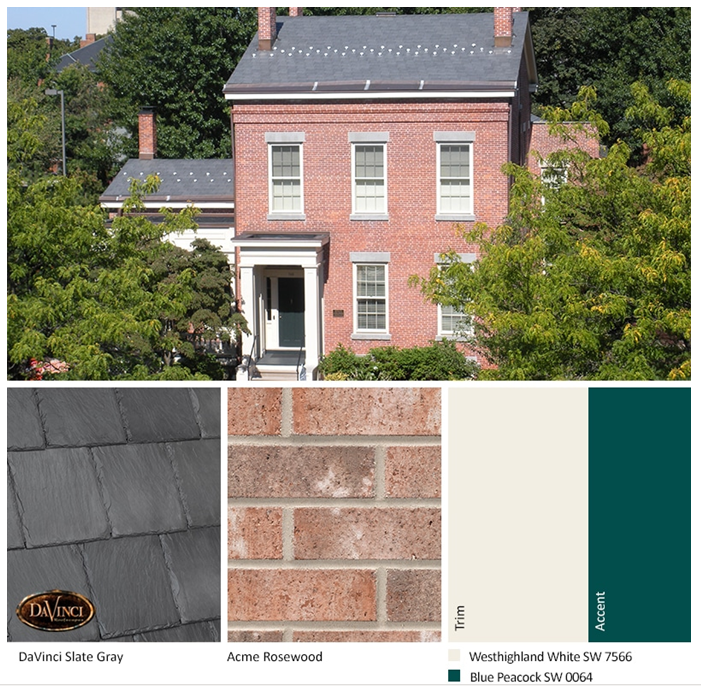 Don't let preconceived thoughts of pink fool you. These bricks range from slightly lighter than red to neutral and uplifted with a rosy glow. Add soft colors and an accent or two with the same subtle radiance as your brick. If your brick is on the lighter side of red, check out "Five Fabulous Pink Brick Exterior Color Schemes."
Brickwork with a white or cream color cast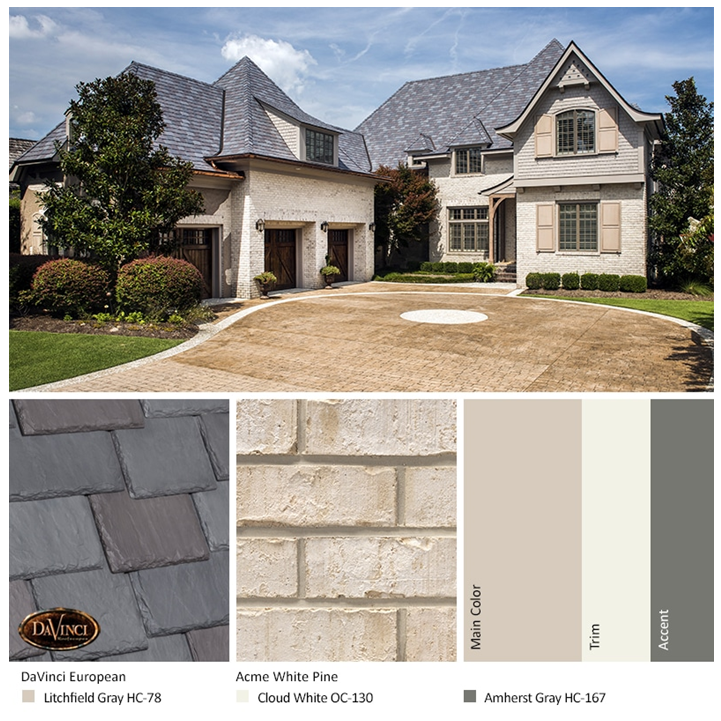 Though not usually pure white or cream, the clean look of light bricks is attractive on home styles from historical to modern. One advantage of white and cream bricks is their ability to harmonize with many colors, making it easy to find brick exterior color schemes that accentuate your home. See examples in "Five Inspiring White and Cream Brick Exterior Color Schemes."
Brickwork with a gray color cast
Bricks with a gray cast can be either cool or warm brownish-gray. Match the temperature of your bricks to the temperature of your primary color and neutrals for the best gray brick exterior color schemes, "Five Great Gray Stone Exterior Color Schemes"
Brickwork with a black or brown color cast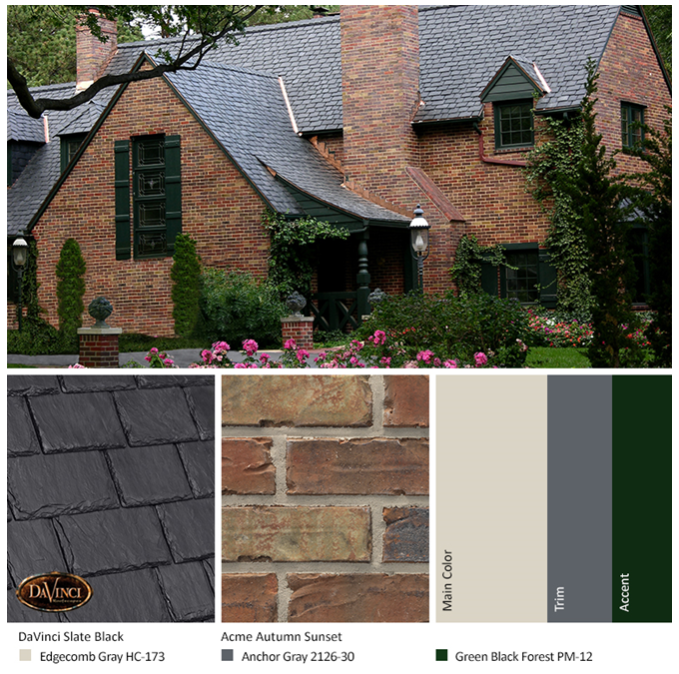 These bricks are not purely brown or black but feature rich dark neutrals brought to life by contrast and color. When creating black brick exterior schemes, give contrast with a light to medium primary color and then add medium to dark accent colors. Here are "Five Beautiful Black Brick Exterior Color Schemes."
Brickwork with a tan or buff color cast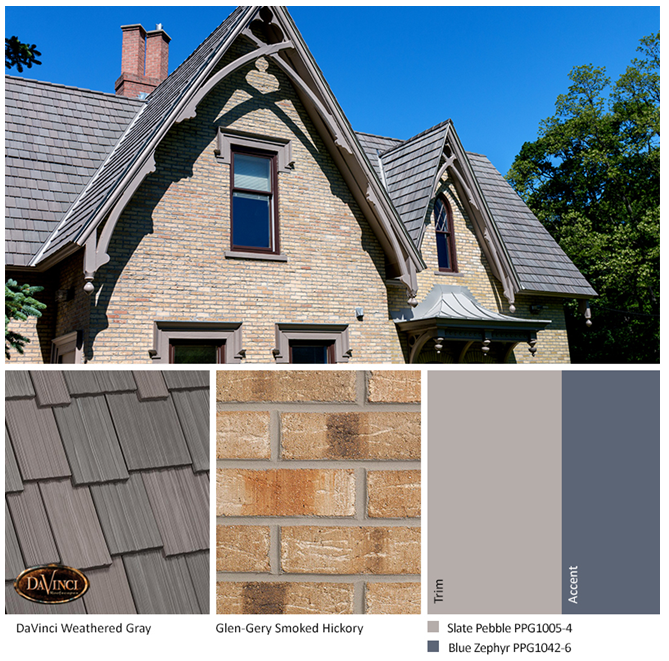 Tan bricks are a natural partner for a palette of warm colors. Bricks predominantly tan, or tan overlaying another color, have a welcoming warmth. Cool tones can work, too, mainly when used as accent colors in tan brick exterior color schemes. Find inspiration from our "Five Tantalizing Tan Brick Exterior Color Schemes."
More inspiration and a free eBook
The tips above can get you started. To get all the details on creating your best brick home exterior color schemes, download DaVinci's complete guide  – FRESH Home Exterior Color Schemes for Brick and Stone.