Snow Guards, when installed on a steep slope roof, helps keep large piles of snow from sliding off the roof and damaging your property or even injuring someone in the wrong place at the wrong time.
With a long tongue, these brackets are nailed on top of a course of slate or asphalt shingles, then the tongue is covered by the next course of roofing to make a waterproof system. The old bent up and damaged snow guard on the – served well for many years but the weight of the snow crushed it made it and others on this roof fail and in need of replacement.
The placement of these snow guards is up to the roofer. His knowledge and experience with the local climates and understanding how and where snow gathers, will help him with, where and amounts of these snow guard he uses. The picture to the right shows the snow piling up near a valley and is actually starting to tear of the rain gutters from the weight of the snow pile. The picture to the right bottom shows a few weeks later the effect of the heavy snow. Bending and smashing the snow guards making them useless and letting the snow tear the gutters off.
For centuries snow guards have been used on roofs.
By added more snow guards higher up the roof and near the valley area and using a better-reinforced snow guard this build should never have any issues it had this winter. The 2015 winter dropped record-breaking snowfalls creating damage just like this in the northeast. This summer would be a good time to ask a roofer to check for damage like this on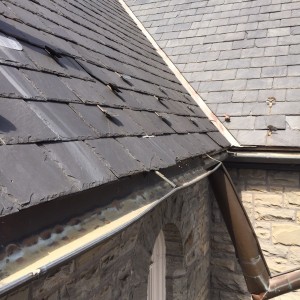 your roof. An inspection is not that expensive and may save you grief later with a failure like this.
Have a question? AskARoofer HERE
Need a contractor? Check out our list of Roofing Contractors HERE.