Understanding skip sheathing and its purpose.
Meg asked, Why do I need to have new plywood. My home is in Roseville CA and my roofer says I have skip sheathing. I just don't understand what he means. The roofer I am dealing with told me that askaroofer.com would have a picture. Can you provide a picture to help me visualize this?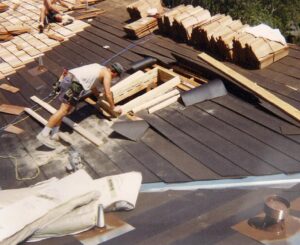 Skip Sheathing or spaced sheathing is very popular in central California. In Roseville, cedar shakes have been used for decades for roofing. The cedar shakes and shingle roofs were applied over skip sheathing, along with #30 felt being laced during the installation. You may ask. Why is skip sheathing used instead of plywood for a roof deck? It is used to help the shakes breath and also helps the shakes dry out after being soaked by the winter rain. This also makes for a cooler roof in the hot summer months, since wood is a great insulator. Your question was, do I have a picture of skip sheathing. Yes, I just happen to have a few. Above is a photo of a shake roof removed in Roseville, California.
The wood used for skip sheathing is normally Douglas fir and is 1 inch by 4 inches in dimension. It is spaced by the same dimension, giving it a ladder-type look as it goes up-te roof, thus the name, spaced or skip sheathing. Here is a shake roof that was torn off, and is now, being prepared to have an asphalt roof installed. The skip sheathing needs to be filled in or a ply-board like this in the photo installed over the top. OSB or "oriented strand board" is perfect for a project like this. After the overhangs are repaired of dry rot, the OSB can be installed right over the old skip sheathing. It is a good idea to add a nailing board as seen, where the new OSB can be nailed correctly when the layout does not hit an old 1 x 4. Once this is all laid out and nailed off, you will have a nice surface for your new asphalt shingle roof to be installed. I hope this answered your question.
Have a question? AskARoofer.
Find your local roofing contractor in the RoofersCoffeeShop® Contractor Directory.