Roof Inspections from the ground - Safety First
Springtime is the best time to inspect your roof. The winter's wind and rain can damage any age roof you have. It can also deposit debris from trees that can cause problems later if left unattended. Take a little time this weekend and get out the binoculars and look at your roof from the sidewalk. It is amazing what you can see on your roof from the ground. Repeat the process form the back yard and side yards. It is a simple way to get a general idea of your roof condition without climbing up on the roof. If any of the neighbors ask, just tell them your bird watching.
What you are looking for is:
1. Broken or missing shakes or shingles.
2.  Missing ridge caps.
3. Debris on your roof.
4. Loose metal flashings.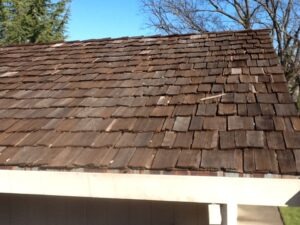 Cedar shake roofs seem to take a beating more than other roof types. As you can see from this picture there is debris left on the roof and a few missing shakes. The loose hip & ridge is also in need of repair. Binoculars will zoom in better than this photo shows. The owner of this roof in Sacramento recognized the need for a new roof and soon after this inspection replaced it.
Have a question? AskARoofer HERE
Need a contractor?  Check out our list of Roofing Contractors HERE.