Getting ready to install cedar shakes on a house, this New Jersey homeowner wanted to know what the experts suggest for shake exposure.
With a roof slope that differs from the application instructions, Kirk, a homeowner in north New Jersey, turned to the experts for guidance on what the shake exposure should be. He asked:
I'm installing cedar shakes (18" x 3/4, heavy resaws) on a house that has a section with a 3.5 slope shed roof (22' x 14'). The application instructions recommend exposure of 7.5" for a 4:12 or steeper slope roof. What would you recommend the shake exposure to be for the 3.5" section? Thanks for your help.
Our resident expert roofer, John Stout with Go Roof Tune Up™, had this to say in response:
The Cedar Shake and Shingle Bureau Manual shows a detail for shake roofs on low pitch (less than 4:12). The detail shows a lattice built over a BUR or another approved roof system with shakes installed on the lattice in normal fashion.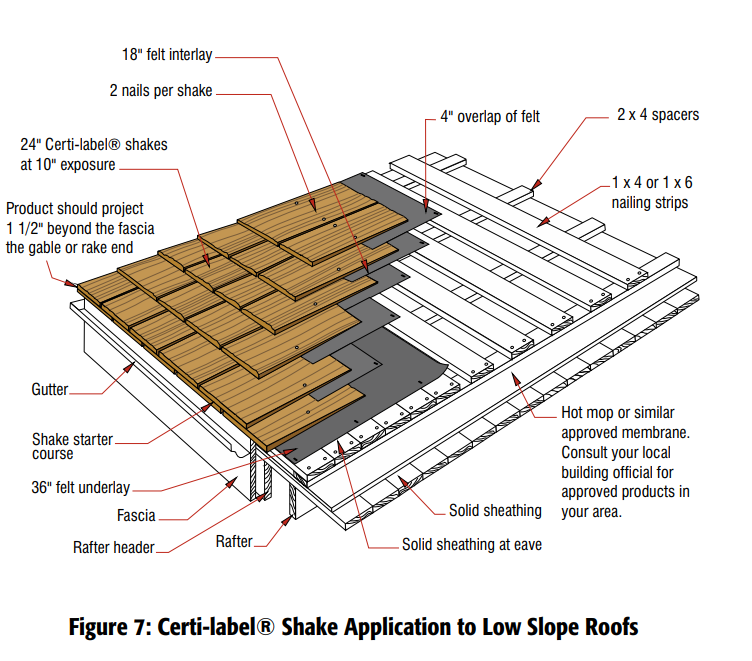 Local code and building departments have expectations of contractors following the code. It may save some time to check with your local building department, they may have some acceptable alternatives. This is especially true when the low pitch area is less than 10% of the total roof area.
We hope this information helps!
Your friends at AskARoofer.
Continue the conversation in our Forum!
Have a question? AskARoofer.
Find your local roofing contractor in the RoofersCoffeeShop® Contractor Directory.
About Go Roof Tune Up
Go Roof Tune Up™ is comprised of certified roofing professionals and expert craftsmen with a senior management team of a combined 140 years of roofing experience. With this experience and continuing education for all team members we are convinced that roof maintenance is the best way to ensure the longevity of a roof and that by far most roofs can be repaired rather than replaced. Go Roof Tune Up™ is the premier provider of roofing services including repair, maintenance and replacement. We currently offer services in a number of States and the list is growing regularly. We work with homeowners, real estate professionals, property managers and home investors. Because of our extensive roof repair experience, Go Roof Tune Up™ can confidently offer you an exclusive 5 years no Leaks Limited Warranty- on your ENTIRE ROOF!