By Kate Smith, Sensational Color.
Learn how you can make informed decisions with the color of your home's exterior.
Standing outside your home, is someone likely to "soak in" your palette of colors… or run away screaming? If you're using too many colors, or not the right color combinations, unfortunately it could be the second option.
Homeowners often think it "can't hurt" to add in the hot pink pillows on the porch to give their home a "punch of color." However, if those pink pillows are now mixed in with teal shutters, rust window frames and a red brick exterior, it may be one color too many.
Like many things in life, having a colorful home exterior means "all things in moderation." Your home's palette should look unified. Starting at the top down with your roof, it should flow.
Creating an aesthetically pleasing home exterior is not a simple task for most homeowners. However, that doesn't mean it has to be difficult either. Making the right choices is always easier when you have the information to make an informed decision while you are in the process of making your roofing selections. For example, starting with a Smokey Gray roof, and looking downwards, it's classic and appealing to use these colors as accents: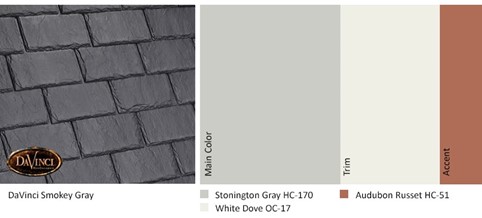 While you might have arrived here at this story because you are selecting a new roof, one element cannot be chosen without considering all of the other elements of your exterior. To help you select materials and colors for your home exterior that will create a cohesive look, I've created several free color e-books. The one to start with, FRESH Color for Your Home Exterior, is the first one to look at for your guide. When you do, you'll see that it's remarkable how "put together" your entire home can look when you start at the roof and work your way down.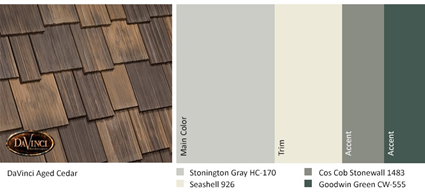 Innovative materials such as composite roofing are essential for both new construction and reroofing projects. This impact- and fire-resistant roofing is usually fade-resistant so it keeps the color you select just as fresh on your home in 25 years as the day it was installed.
The roofing manufacturer I work with, DaVinci Roofscapes, did two homeowner studies on how consumers feel about color on their roofs. The studies were 10 years apart and conducted in 2011 and 2021. The Harris Research study of more than 1,000 homeowners nationwide had some unique findings:
A strong growth in homeowners valuing the curb appeal of their personal properties in the past decade (78 percent viewing it as "extremely" or "very important" in 2011 as compared to 88 percent with similar feelings in 2021 — a 10 percent increase).
A 14 percent increase in homeowners seeing their home exterior as a reflection of their personality (71 percent in 2011; 85 percent in 2021).
One thing the study analysis showed consistency to in the roof over the past decade was color preference. Black is still the most popular roof color, followed by gray, brown and beige/tan.
Look how classic this gray roof appears. You don't have to stray too far from the family of gray colors to find accent colors in that accentuate the roof. Then add that one pop of color — whether it's Tanager, Evergreen or even Electric Blue — to be your accent color.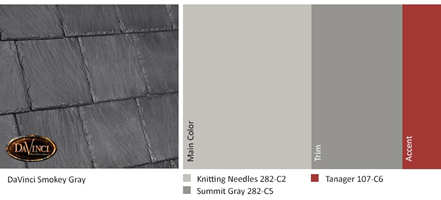 Once you have selected your roof, the team at DaVinci and I have put together dozens of schemes to help you choose the rest of the colors for your home exterior. Find inspiration for the colors for your home exterior by looking at our recommendations for the Best Exterior Color Scheme Match for Your DaVinci Roof. This free ebook, along with our other color advice, is available online 24/7, to make your color choices fast, easy and readily available.
Have a question? AskARoofer.
Find your local roofing contractor in the RoofersCoffeeShop® Contractor Directory.