By Cass Jacoby.
Look to the skyline as we take a trip around the world to visit some of the most inspiring rooftops created!
Look up! Some of the most beautiful buildings in the world are topped off with unique roofs that highlight not just the beauty of the architecture, but a mastery of roofing technology. These intricate roofs from around the world are more than just novel, they are a celebration of the imagination and ingenuity of roofing! Join us as we tour some of the most original roofs across the globe!
1 - Wat Rong Khun, Thailand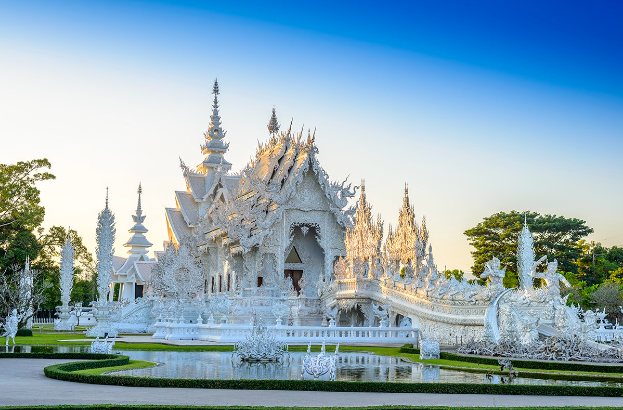 Wat Rong Khun, or the White Temple, is a personal project of artist and devout Buddhist artist Chalermachai Kositpipat. The surreal looking building was built in 1997 and is continuing to expand today.
A central highlight of the temple is an intricate, hand-sculpted detail of the roof, which features plenty of religious elements such as depictions of Buddha hidden among the flourishes. There are also mythical creatures and modern pop culture figures sculpted throughout the several buildings that make up the temple. According to the Vintage News, the all-white building has fragments of mirrored glass embedded in its exterior and roof to give it a dazzling glow.
2 - Hospice de Beaune, France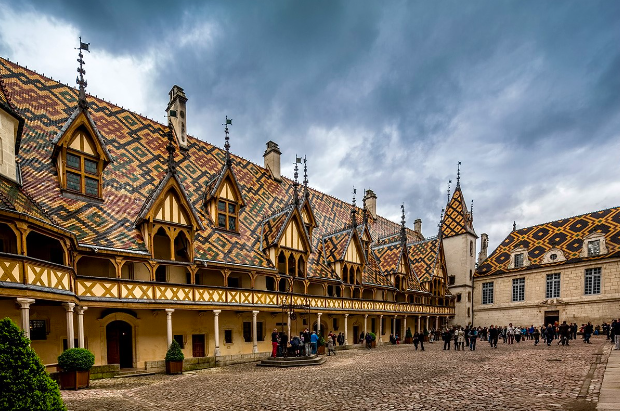 Built as a charity hospital for the poor of Beaune in 15 century France, this roof has a distinctive look due to the pattern of its roofing tiles. Carefully arranged yellow, red and green tiles organized in a striking geometrical pattern across the dormers and turrets make this building truly unique.
The Office of Tourism of Beaune states that this kind of multicolored roof is an integral part of Burgundy, with glazed flat tile roofs in colorful patterns being a traditional architectural feature of the region. Polychrome roofs were status symbols, with the opulence of the outside meant to reflect the owner of the building's wealth.
3 - Casa Batllo, Spain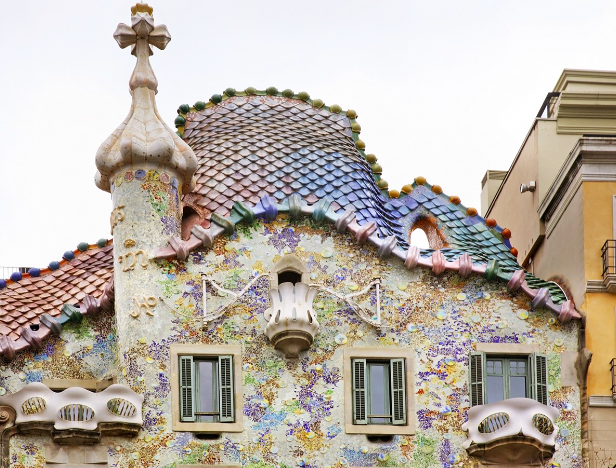 This whimsical and fantastical roof belongs to Casa Batllo, or House of Bones. It has been listed as a UNESCO World Heritage site and is a very popular tourist attraction in Barcelona.
The roof is Antoni Gaudi's masterpiece, and is composed of large, iridescent ceramic tiles, which resemble scales on an animal's back. The building is interpreted by some to be inspired by the legend of Saint George, the patron saint of Catalonia, well known for slaying a dragon to save a princess.
4 - Waldspirale, Germany
Photo credit: LearnGermanCoac 8 Mar 2016
It is no wonder why this building is named "Waldespirale," it is German for "forest spiral"! The eccentric apartment building is clearly named for its large U-shaped green roof, which offers some inhabitants their own slice of a roof garden.
According to Atlas Obscura, the shape of the building is a testament to the building artist's Friedensreich Hundertwasser distaste for straight lines, which he has called "the devil's tools."
In a documentary on the building, Friedensreich elaborates that he created the building design to connect people to nature and he believed that green roofs would become the norm in the future.
5 - House of Five Senses, Netherlands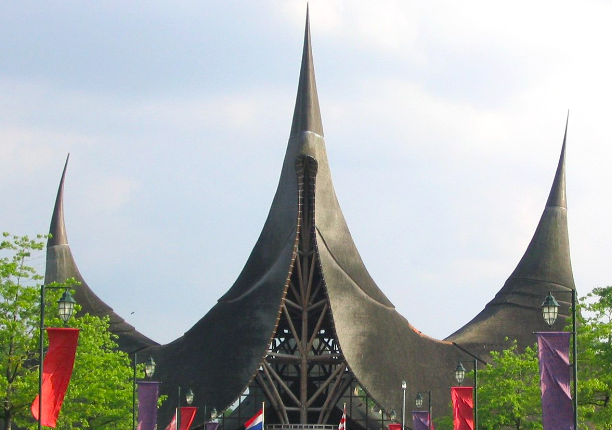 Photo credit: Stefan Scheer, Wikimedia
Inspired by the traditional thatched roof style of Indonesia, the House of the Five Senses is the largest example of this kind of roofing in the world! Home of the Efteling amusement park, this roof has five points for each of the senses, each point outfitted with lights to show off the shape at night.
6 – Suburban home, Chicago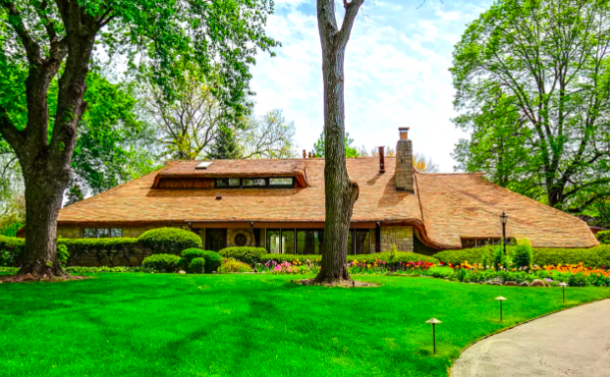 Photo credit: NBC Chicago
Unique roofs of the world aren't all famous religious structures! This suburban home proves that a unique, fairytale looking roof can exist in the most unlikely of places. The listing for this home highlights that it is a "Zook-style curved cedar roof," a nod to the Chicago-area architect R. Harold Zook.
7 - Matthias Church, Hungary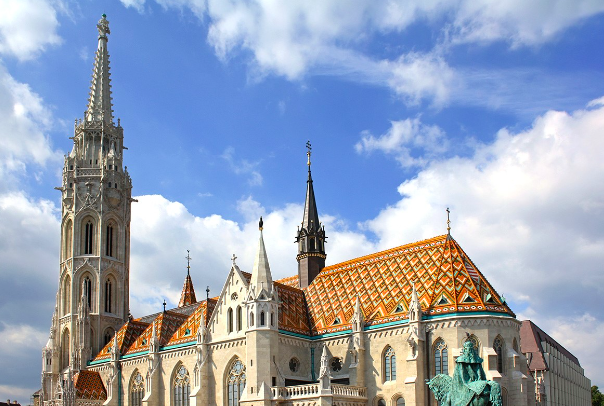 This church was built in 1255 and has a storied history throughout the decades. In 1896, the diamond patterned ceramic roof tiles were added by architect Frgyes Schulek. Architectuul reports that in addition to the tiles, Frgyes also added a gargoyle laden spire.
The roof is crafted with a glazed-tile roof similar to Burgundian roofs (just like in the Hospices de Beaune). The bright orange, teal, green and red tiles make up intricate patterns like flowers and chevrons. This design hints at the immense talent of the tile installers that spent so many hours to make this church the awe-inspiring building it is today.
8 - Kizhi Pogost Church, Russia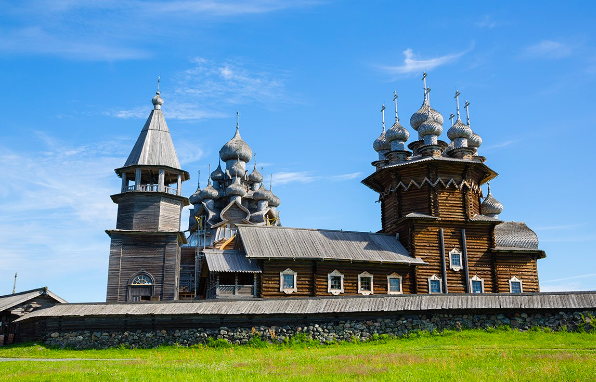 This building is most notable for its beauty and longevity, despite being built exclusively of wood. The twenty- two roof domes are the only part of this building with nails. The Atlas World of Art claims that there are approximately 180,000 nails securing the 60,000 roof shingles!
The World Monuments Fund reports that the domes are supported on slender drums and bochka vaults. They also highlight that the narrow, diamond-shaped aspen shingles get their silver hue from the passage of time.
9 - Himeji White Heron Castle, Japan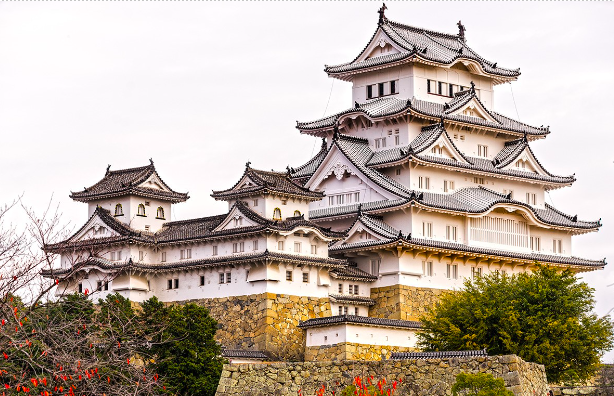 This castle name is inspired by the vision of a white egret taking off into the sky. The building has been meticulously maintained and renovated over the years, which is why the building looks so immaculate despite being built in 1609 during Japan's first feudal period.
While the original tiling had faded to grey, in 2010 the tiles were restored to their original bright white hue, which as Livedoor News reports, surprised many people in Japan with how brilliantly white it is. Any new tiles have been made by traditional methods.
10 – Bamboo Pavillion, China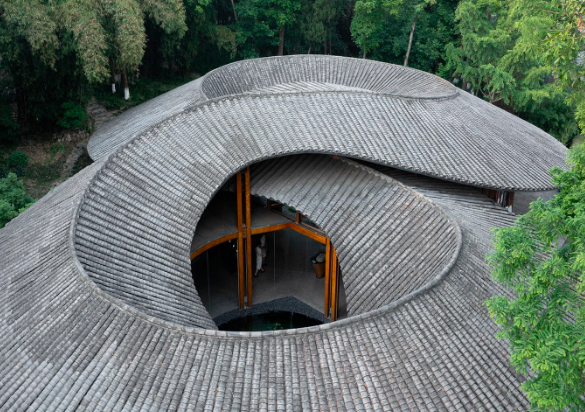 This building is in a part of Sichuan, China, which is well known for bamboo weaving traditions. Archi-Union Architects, has noted that the practice is an integral part of how families within the town spend time together, and made this roof in homage to this rich local custom.
Made in an astounding 52 days, this multi-use pavilion is made of steel and wood, which supports a twisty, infinity-shaped roof of small ceramic tiles. This is Collosal reports that this roof is at once evocative of a brushstroke within traditional Chinese landscape painting and a modern building innovation.
Conclusion
From the tourist destinations of churches and temples to the suburban oddities of Chicago, unique roofs exist around the world highlighting impressive feats in roof design and installation. As we continue to innovate as an industry, the possibilities that new roofs offer to save energy, connect us with nature and look at our environments more thoughtfully are endless.
These roofs prove that roofing isn't just about providing us with protection and shelter, but that they are in and of themselves an artform. Roofs can be just as beautiful as they are functional, and as utilitarian as they are sculptural. As roofing becomes more advanced, we look to the skyline for the fantastical and inspirational designs of the future.
Have a question? AskARoofer.
Find your local roofing contractor in the RoofersCoffeeShop® Contractor Directory.
About Cass
Cass works as a reporter/writer for RoofersCoffeeShop, AskARoofer and MetalCoffeeShop. When she isn't writing about roofs, she is putting her Master degree to work writing about movies and dancing with her plants.