Asphalt shingles can be installed down to a 2:12 pitch roof with a double layer of underlayment.
Here is an example of a roof I designed where the customer wanted a larger front porch to sit and relax in the evenings. Prior to the roof, I brought in Jonus Larsen to frame a larger patio cover front and add a new patio cover in the back. The trick was to keep the headroom to enter the front door and yet keep a minimum of 2:12 pitch so the same roofing materials could be used. According to my local codes anything less than 2:12 pitch a low slope roofing material needs to be applied. Simply stated using asphalt shingles won't work on low sloped roofs. Nobody wants to look at a commercial type roofing system on the front of your home. So, having the pitch be at least a 2:12 was really important as you can see. After the facelift to this home we installed a charcoal shingle roof using GAF Timberline HD.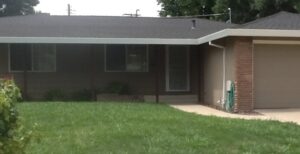 Some may say a charcoal colored roof means A VERY HOT ROOF
With the proper attic ventilation, this dark color roof not only looks great finished it has an attic that breathes well, keeping cool air ventilating it in those hot summer we have in Sacramento.
Having a choice in roofing color options is great for designing a home, but in California, we must meet a code called Title 24 "COOL ROOF". Basically this means we have a choice to use a highly reflective shingle which normally is lighter colored surfaces or use other means to keep the home from wasting energy. In this case, we raised the insulation to R-38 and designed 1 sq. foot. of ventilation for every 150 sq, feet of living space. This gave us the approval from the building department and to use a beautiful Charcoal colored for the roof, that the customer really wanted.
Have a question? AskARoofer.
Find your local roofing contractor in the RoofersCoffeeShop® Contractor Directory.