When Disaster Strikes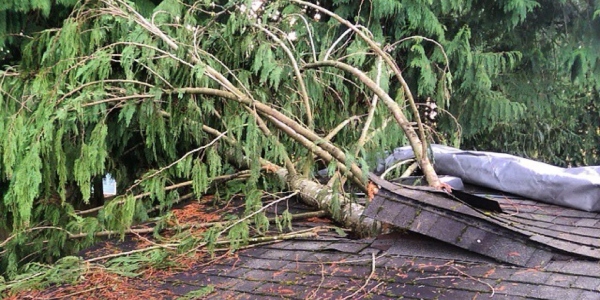 What to do when your roof is damaged by hail, fire, windstorms and other natural disasters.
Hurricanes, wildfires, derechos, oh my! Natural disasters continue to devastate the United States, not only affecting the land, but also our homes and our roofs. So what should you do when disaster strikes?
A damaged or leaking roof can cause significant damage to your home and to your health. When disaster strikes, it's important to contact a roofing contractor immediately. Moisture in your home can cause mold, mildew and wood rot, which is dangerous for the structural integrity of your home and for you to breathe.
After the storm has passed, assess the damage of your roof by walking around the perimeter of your home. Document the damage you see by looking for missing shingles, exposed plywood and tarpaper, dented gutters and gable vents and other areas that appear to have been affected. Also note the severity of the damage and take photos should you need them for insurance purposes.
If your home suffered extensive damage, contact your homeowners insurance provider. Insurance representatives can help you file a claim and get adequate compensation using the notes and photos you took during your initial assessment.
Next, contact a reputable roofing contractor. Be wary of traveling contractors, sometimes referred to as "storm chasers." These roofers will move into affected areas and offer their services, which can be beneficial, but can sometimes prove to be troublesome down the road. As disasters increase in intensity, so does the amount of devastation. There are times when local roofing companies cannot keep up with the demand, which is when storm chasers are helpful to have around. However, because these contractors aren't local, they don't have a reputation to uphold and can provide substandard work or charge homeowners upfront and never return to repair or reroof your home.
Another option for homeowners after a severe weather event is to find a Stormseal-certified contractor to have their home wrapped until permanent repairs can be made. Made of polyethylene resins combined with fire-retardant and ultraviolet-resistant additives, Stormseal is a strong and lightweight film that heat-shrinks to protect and weatherproof damaged structures, providing a superior alternative to tarps. Stormseal can withstand hail storms and winds up to 150 mph without ripping, tearing, leaking, blowing off or collapsing.
Benjamin Franklin once said, "An ounce of prevention is worth a pound of cure." And this couldn't be more true when it comes to roofs and natural disasters. The more you prepare for adverse weather events, the better off your roof and your home will be. In addition to providing information about dealing with the aftermath of a storm, this page will provide you with tips to maintain your roof and prepare for hail season, hurricane season, wildfire season and all the other seasons.
Learn more about what to do when disaster strikes.
Have a question? AskARoofer.
Find your local roofing contractor in the RoofersCoffeeShop® Contractor Directory.
---